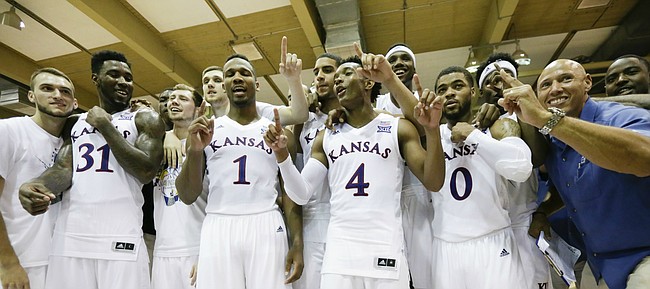 Lahaina, Hawaii — Wayne Selden Jr., who has had plenty of success on the mainland, seems to take it to another level far from home.
One of the stars of the United States gold medal winning World University Games team last summer in South Korea, Selden exploded for a career-high tying 25 points off 8-of-11 shooting (4-6 from three) and grabbed seven rebounds in KU's 70-63 Maui Invitational championship victory over Vanderbilt on Wednesday in Lahaina Civic Center.
The 6-foot-5 junior from Roxbury, Massachusetts, had double figure scoring in every game, burning Chaminade for 18 points and UCLA for 15.
Selden, who had 13 points the first half in helping KU at least keep it close in trailing 30-26 at the break, shared MVP honors with teammate Frank Mason III, who scored 10 points with five rebounds and three assists in the title game.
Photo Gallery
Kansas basketball v. Vanderbilt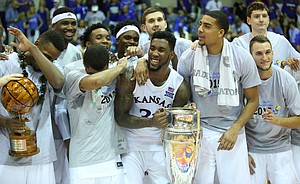 Images from the Jayhawks' matchup against the Commodores in the championship game of the 2015 Maui Invitational
"I saw the Wayne that was in South Korea, very aggressive, made good shots. He didn't let us down. He got in the paint and found teammates," said Mason. KU also had Perry Ellis (five points, eight boards) make the all-tournament team.
"That's what we need from him, to get in the paint and make open shots for us. He was great tonight," Mason added.
But what about the MVP trophy that sat in front of the two in the media room on Wednesday?
"I definitely think Wayne deserves it," Mason said. "The way he played tonight and the tournament ... we were happy to get the win."
Mason had 14 points, seven assists and six rebounds vs. Chaminade and 16 points, seven assists and five rebounds vs. UCLA.
"This is my brother," Selden said of Mason. "We'll share (trophy). It'll be in my room a month and go across the hall in his room a month. We'll rotate it."
Podcast episode
Bill Self, Wayne Selden and Frank Mason talk Maui title
KU coach Bill Self had high praise for Selden, whose only mistakes seemed to be missing four free throws in the final 41 seconds that could have truly iced the game.
"Wayne was the best player in the tournament," Self said. "He was great. But we also had no chance to win unless Frank plays as he did. He is our pit bull with the ball in his hands. If they (share) it, if I'm Frank I give it to him (Selden) six weeks and he keeps it two, something like that. Wayne was fabulous the first half. He kept us within striking distance," Self added.
Self continued: "The way Wayne played tonight is the way we saw him play eight games in Korea: aggressive, powerful, shot a great percentage, but didn't rely on jump shots. Three games in three days, playing 40 minutes (vs. Vandy) he's obviously a very well-conditioned athlete."
Vanderbilt coach Kevin Stallings, whose team hit 41.2 percent of its shots to KU's 45.5 (Vandy hit six of 27 threes; KU eight of 16), said Selden's play came as no shock.
"Honestly he (Selden) has the easy job," Stallings said "He has Mason and Graham (Devonté, 12 points, six rebounds, one assist) in there penetrating and breaking down the defense. He is standing out there catching and shooting. Don't get me wrong. He (Selden) made nice plays and drives, too. Nothing about him surprised me. What surprised me is so many times we helped off penetration when we were not supposed to. I didn't think he was making terribly difficult shots," Stallings added. "It's a testament to their offense and we didn't guard as well as we need to guard to beat a team of that caliber."
KU trailed by as many as 10 points the first half. However, Selden had five points in a 9-2 run that opened up a 45-38 lead with 13 minutes left. KU led by 13 with 5:09 left, but Vandy stuck close until the final moments.
"It was a great win for us," Self said. "They were far better than us early in the game. Wayne kept us in the game offensively by scoring the ball. I'm so impressed with their (Vandy's) team. They missed some shots. We defended them well. It was a game with no rhythm, which is good because that's the way it is late in the season in conference play in a majority of the games."
KU, which next meets Loyola at 7 p.m., on Dec. 1 in Allen Fieldhouse, will enjoy today in Maui before flying home later in the day.
— See what people were saying about the Maui Invitational title game (and Cheick Diallo) during KUsports.com's live coverage
---
---
---
---
More news and notes from Kansas vs. Vanderbilt
---
More like this story on KUsports.com