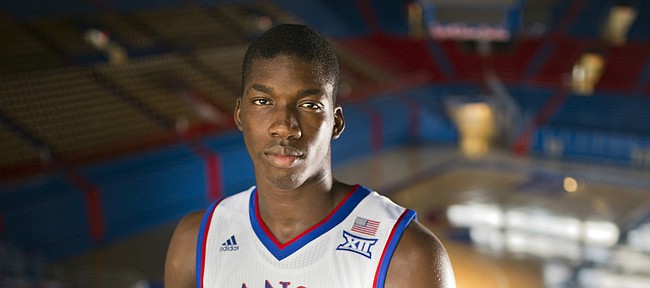 Lahaina, Hawaii — Kansas University basketball coach Bill Self received the long-awaited word on Cheick Diallo's eligibility from his administration about 5:30 a.m., Hawaii time Wednesday — the day before Thanksgiving.
And though he was thankful the 6-foot-9 freshman forward from Mali had been cleared by the NCAA to play in games starting Dec. 1 versus Loyola, he remained a bit concerned Diallo had to miss two exhibition contests and five regular-season games.
"I am very happy he's eligible," Self said, "but I will say, me personally, I do not agree with the contents of the (NCAA's press) release. I'll just leave it at that. This was an academic issue and regardless of what's been said, it was an academic issue."
The NCAA indicated in a news release: "Based on the amateurism review, the NCAA concluded that Diallo received a limited amount of extra benefits (that Diallo must pay back to charity). Therefore, Diallo is not eligible to play for five contests, including the four games Kansas has already played."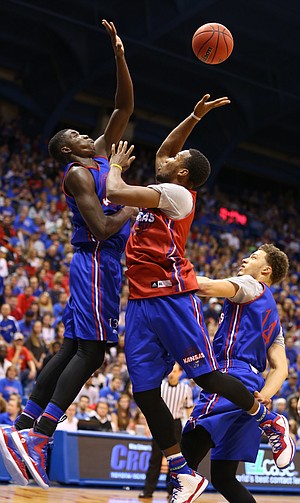 Don Jackson, the attorney for Diallo's legal guardian, Tidiane Drame, told the Journal-World that the extra benefits totaled $165.
"Those were the alleged benefits that Mr. Drame gave Cheick during the 20-day period prior to his legal guardianship going into effect. Totally ridiculous," Jackson told the J-W.
"In that short window, he (Drame) assisted him and was not 'quote' legal guardian yet. That would be like filing for adoption and providing something two days before adoption became final. Let's be candid," Jackson added. "This five-game suspension was nothing more than a pre-textual justification for a flawed investigation. There were no legitimate academic issues relative to Cheick's secondary school education and no legitimate amateurism issues relative to Cheick's involvement with Mr. Drame. Conveniently, the fifth game of Cheick's five-game suspension is today's game (vs. Vanderbilt). This case cast a spotlight on the flawed methodology of Eligibility Center investigations. This young man served a 'de facto' suspension with no credible justification for his suspension," Jackson added.
Regarding the academic side of the case (the alleged lack of enough core courses) that Self mentioned, the NCAA did point out "the university provided new information to the NCAA on Nov. 20, including an independent review of Diallo's coursework. Based on both the independent review and the Eligibility Center's existing information, the NCAA approved his initial eligibility waiver."
So KU's work in hiring two independent groups that studied Diallo's core courses at Our Savior New American was a factor in Diallo becoming eligible. As was Drame hiring Jackson to represent him.
"That's been the thing most frustrating to me is the total lack of partnership between the NCAA and its member institutions. Fortunately, with us, we had the means to stand up and fight for our kid," Self said. "Fortunately for us we had administration that felt all along we were 100 percent right on this and wanted to fight for our kid (to the tune of about $100,000 in expenses incurred by KU). There's probably a lot of schools out there that don't have the means to do this kind of stuff. I do think that's something moving forward everybody should work better together."
Jackson said flatly: "Had there not been pushback from the university, this would have gone entirely differently. Had there not been joint pushback from the university and Tidiane it would have gone differently. It could have been 25 to 50 percent more games. The worst case scenario is they could have taken away eligibility period."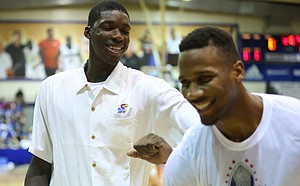 Jackson is so bothered by the NCAA's handling of the initial eligibility case, he recommended schools taking legal action in the future.
"It is my hope that this case serves as an impetus for other member institutions and student-athletes to aggressively challenge the intrusive and manifestly illegal actions of the Eligibility Center in these types of investigations. It is my belief that these investigations will only be modified by action of a federal court. Further, I have said repeatedly over the past decade that it was my belief that these types of investigations were grounded in a discriminatory application of NCAA legislation (to African-American and international student-athletes). Today's decision provided further support for that belief," Jackson said.
Meanwhile, Self, who spoke with Diallo shortly after learning of the decision, finally obtains the services of a McDonald's All-American.
"Cheick is excited. Obviously it is going to be a big relief for him," Self said. "Hopefully he can get back to just being Cheick and not have so many things hanging over his head. I think he's done a nice job dealing with the stress. He's probably done much better than I've done.
"He never let anger become a factor in this. It was more frustration. With me it would have been total anger the whole time. I think he handled it very well from a frustration standpoint. He hasn't been himself on the basketball court. He's been himself off the court for the most part. He's a happy-go-lucky kid that hopefully can get back to who he is and not have the stress of not being part of something all along he knew he deserved to be part of."
It could take Diallo a while to emerge as a force.
"He's been on the second team or scout team for three weeks now," Self said. "He's not been able to practice a week. I think he'll make us better. I think it'll be one of those things that immediate impact will be limited to what the long-term impact will have, once we get into conference play and February, because he's raw."
Official statements on Diallo ruling
KU AD Sheahon Zenger: "I really want to thank the NCAA staff for guiding this process to a fair conclusion in what was a very complicated situation."
Tidiane Drame, legal guardian of Diallo: "I am glad that Cheick was granted eligibility. The NCAA attempted to save face because they knew since Day One that I did nothing wrong and that Cheick should have been granted immediate eligibility."
Oliver Luck, NCAA executive vice president of regulatory affairs: "Our goal is to have eligibility decisions made prior to the start of a student-athlete's season. However, this was a complicated case involving international transcripts and a high school that remains under review. Additionally, staff considered a complex set of circumstances regarding amateurism."
KU assistant Norm Roberts on the pre-game radio broadcast, before Kansas faced Vanderbilt for the Maui Invitational title, explained how Self let the team know about Diallo being deemed fit for play by the NCAA starting Dec. 1 against Loyola.
"We were at pre-game and coach announced to the guys what was going on," Roberts said. "Guys stood up and started clapping for Cheick. He had a big smile on his face. We're so happy for the kid this is over with. We can move on as a team. He can move on as a player."
— See what people were saying about the Maui Invitational title game (and Cheick Diallo) during KUsports.com's live coverage
---
---
---
---
More news and notes from Kansas vs. Vanderbilt
---
More like this story on KUsports.com