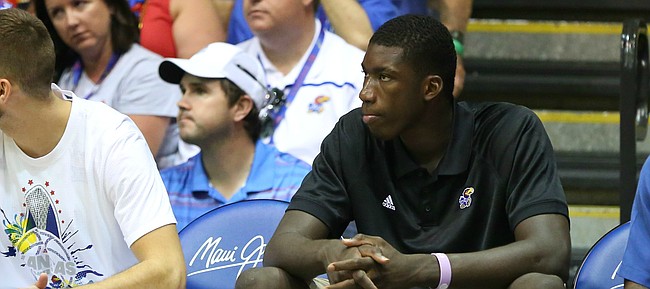 Lahaina, Hawaii — Wearing a black, button-up KU shirt, khaki shorts and enormous blue-and-white adidas shoes, Kansas University freshman Cheick Diallo sat at the podium in the media room at the Maui Invitational with a look of relief splashed across his face.
Seated to the left of Kansas coach Bill Self, who, moments earlier, hoisted the Maui championship trophy for the first time in four tries, Diallo leaned forward ever-so-slightly and, with his arms folded, answered a dozen or so questions about the NCAA's decision to clear him for next week's game, news that came early Wednesday morning and marked the end of a long battle for eligibility.
"I was in my room and (my coach) called me to come to a meeting room," Diallo began. "I knew something was going to happen. I was so excited."
That "something" was Self explaining to Diallo that a wait that had lasted months and cost the university nearly $100,000 to fight for his clearance had come.
Photo Gallery
Kansas basketball v. Vanderbilt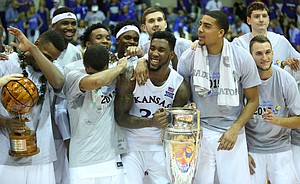 Images from the Jayhawks' matchup against the Commodores in the championship game of the 2015 Maui Invitational
"I was so nervous and I was happy at the same time," Diallo said. "Everybody was texting me, calling me, saying, 'We heard the great news.' Even right now, I'm not 100 percent nervous, but I'm so happy."
The ruling by the NCAA to clear Diallo, but slap him with a five-game suspension for receiving impermissible benefits, meant that Wednesday's 70-63 victory over No. 19 Vanderbilt in the Maui title game was the last time Diallo would have to dress in street clothes while his teammates prepared to play.
That fact was not lost on the 6-foot-9 forward from Mali, who will no longer just be the most decorated pre-game rebounder in the country.
"Even on the bench today, I was cheering for my team, I was supporting Kansas so hard," he said. "I wanted them to win. It was a close game today, but I wanted to push my team, 'Let's go, let's go, let's go,' and give energy to my team."
Diallo, who Wednesday night thanked everyone from KU fans to his high school coach to Kansas administrators and Self, said the past several weeks were stressful.
"It was very tough," he said. "Sometimes I could not even sleep. I was always thinking about what I'm gonna do. I cannot say (enough about the people who helped me). Every time I called my high school coach or even Bill Self, people always said, 'Don't let it go, don't quit,' and sometimes I just wanted to let it go because it was getting hard. I didn't have anything to do if I didn't play this year. I really wanted to play this year."
Although the Diallo saga is now headed toward a happy ending, the frustration of the past several months was not erased overnight.
Podcast episode
Cheick Diallo speaks about being cleared by NCAA
"I'm kind of mad right now," Diallo said. "Because they suspended me for five games and I don't even know what I did. I should've played tonight's game."
As for if he thinks he's ready for Tuesday's home game against Loyola (Maryland), the suddenly-smiley Diallo could not hide his excitement.
"I can't wait, man," he said. "I'm ready. I can't wait."
— See what people were saying about the Maui Invitational title game (and Cheick Diallo) during KUsports.com's live coverage
---
---
---
---
More news and notes from Kansas vs. Vanderbilt
---