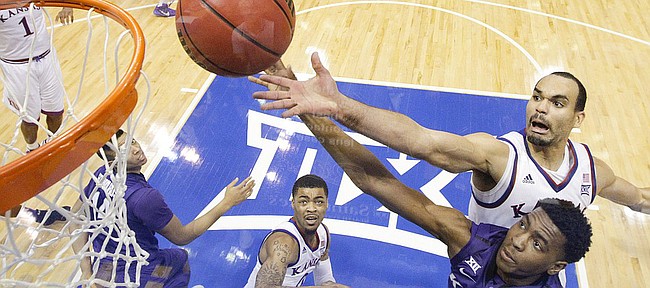 Photo Gallery
Kansas basketball v. Kansas State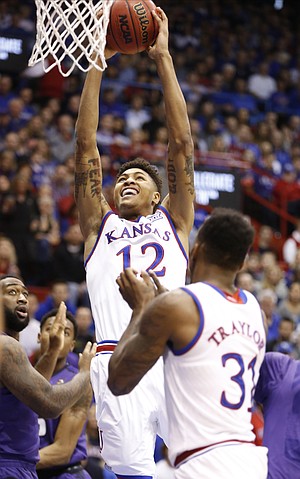 Images from Saturday's game between the Jayhawks and Wildcats at Allen Fieldhouse
Podcast episode
Kansas basketball coach Bill Self discusses the Jayhawks' Saturday home win over rival Kansas State, and wonders why KU can look very different on the floor at various portions of the same game.
Podcast episode
Kansas basketball players Perry Ellis, Wayne Selden Jr. and Kelly Oubre Jr. address the media following the Jayhawks' Sunflower Showdown victory against Kansas State on Saturday at Allen Fieldhouse. Selden says KU took some small steps in the right direction, but the Jayhawks will have to be better on Big ...
KANSAS 68, K-STATE 57
Kelly Oubre Jr. was sure the one native Kansan in Kansas University's starting lineup would come to play with great intensity on Saturday afternoon in Allen Fieldhouse.
"We had a feeling it would be his night on the points and on the boards because it was personal for him going against one of his in-state rivals in Nino (Williams, former Leavenworth High player)," freshman guard Oubre said after Perry Ellis scored a team-leading 16 points and grabbed a game-high 12 rebounds in the Jayhawks' 68-57 victory over rival Kansas State.
"We expected a big night out of him and that's what we got. He had his first double-double of the season. He played like Perry does," Oubre added.
Ellis, KU's 6-foot-8 junior forward from Wichita, actually recorded his fifth double-double of the season, but who's counting?
"Yes, it's pretty personal," Ellis said of his wanting to play well against (12-10, 5-4) K-State, a team his (18-3, 7-1) Jayhawks have defeated in five of six career meetings. 
"Just being from Kansas ... two Kansas schools playing, fans of both schools picking sides. I know Nino (four points, two boards, 22 minutes) real well. It's a fun game. I just try to get after it," Ellis added.
Ellis had his double-double after one half. His 13 points and 10 boards in 16 minutes helped KU grab a 33-17 halftime lead.
"Perry delivered early," KU coach Bill Self said. "I think he's definitely on an uptick."
"I was just trying to go out and attack," Ellis said. "We've been working on rebounding (KU won board battle, 42-37). I just tried to get as many rebounds as possible and go from there."
Ellis scored eight points as KU raced to a 20-5 lead over a cold-shooting KSU team, which hit one of its first 12 shots. At halftime, K-State was six of 35 for 17.1 percent.
It tied for the fourth-worst shooting percentage in a half in K-State history, worst since 16.1 percent against Michigan State in 1996.
"We were trying to get to Foster (Marcus, six points, 2-for-11 shooting first half; 13 points, 5-for-7 second half)," Ellis said. "He's a great player. We were trying to get a lot of traps, help on defense. We did a great job of that the first half."
Of the Wildcats' 17-percent shooting, Self said: "I thought we played pretty good defense the first half. We challenged everything. If somebody is going to shoot 17 percent against you ... we've actually experienced that this year (19.6 percent for the game against Kentucky), I understand. You'd think we could take advantage of it more than we did. We didn't take advantage of them shooting a low percentage. The second half they shot 56 percent (33.3 for game to KU's 44.8). We didn't guard them near as well the second half."
KSU was never able to get the deficit below 10 points the final half, though the Wildcats did outscore the Jayhawks, 40-35.
"I don't think we're near as complete offensively as where we can get to, which is positive," Self said. Four of the eight Jayhawks who entered the game did, however, score in double figures. Ellis' 16 was followed by Wayne Selden, Jr. (14), Brannen Greene (11), Frank Mason III (10).
"I think there's room for growth. I think at times we can really, really, really guard. At times we can be average defensively. What's frustrating to me, those types of things happen in between timeouts. It's like Sybil. We have multiple personalities within the game. That's what's frustrating. Even in Fort Worth (64-61 win over TCU Wednesday) you can't say we were awful. We were up, 23-10. There was a phase in that game we were really good. Then we can go the other way. 
"That's the thing that's frustrating is the inconsistencies that basically transpire within a game. I don't think we ever really experienced that here. We've had teams go through droughts and things where we did not play as well. It seems to me this team experiences more of those than any else since we've been here."
One consistency is KU's performance against KSU. The Jayhawks have won nine in a row over the Wildcats in Allen and 49 of 53 games overall.
"It's big," Ellis said of beating KSU again. "We always want to protect our home. It's always a fun game playing against those guys. Now we're just looking forward to Iowa State next."
KU will meet (18-3, 6-2) Iowa State at 8 p.m., Monday, in Allen Fieldhouse. The Cyclones are tied with West Virginia for second place in the league, just a game behind KU.
---
More news and notes from Kansas vs. Kansas State
---
More like this story on KUsports.com