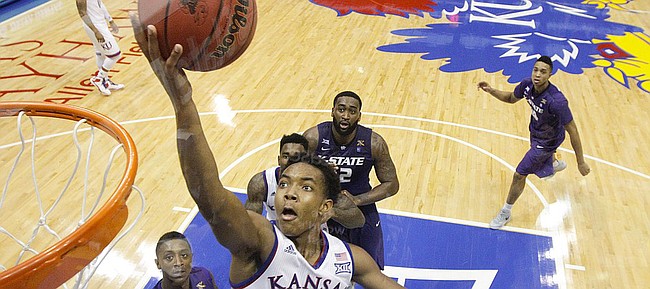 Photo Gallery
Kansas basketball v. Kansas State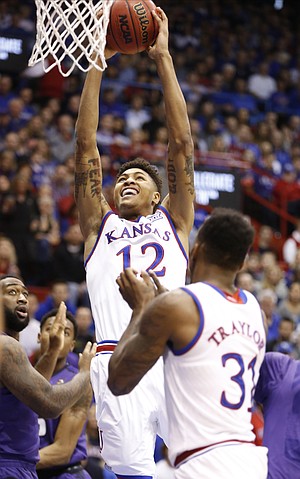 Images from Saturday's game between the Jayhawks and Wildcats at Allen Fieldhouse
Podcast episode
Kansas basketball coach Bill Self discusses the Jayhawks' Saturday home win over rival Kansas State, and wonders why KU can look very different on the floor at various portions of the same game.
Podcast episode
Kansas basketball players Perry Ellis, Wayne Selden Jr. and Kelly Oubre Jr. address the media following the Jayhawks' Sunflower Showdown victory against Kansas State on Saturday at Allen Fieldhouse. Selden says KU took some small steps in the right direction, but the Jayhawks will have to be better on Big ...
KANSAS 68, K-STATE 57
Kansas University freshman point guard Devonté Graham received a second-half technical foul in the Jayhawks' 68-57 home win over rival Kansas State.
The young guard earned the whistle for taunting KSU's Marcus Foster after Graham hit a driving layup with 7:57 left, KU up, 56-40. KSU scored four straight points after the 'T.'
"He (ref) talked to the two players on the other end and said, 'Hey knock it off.' As soon as Devonté scored, he ran up there and yelled at him. He deserved it. It was immature and a bad play. He'll learn from it. It won't happen again I wouldn't think," Self said.
"There was nothing poor sportsmanship about that right there. That's the rule. If an official tells you to knock it off and you do something again after that, you deserve what you get. He (Graham) is the best kid in the world. There was no ill sportsmanship even though that's why they gave it, for taunting."
Streak at 18: Frank Mason III scored 10 points the second half after going scoreless the first versus the Wildcats. He kept alive a streak of 18 straight games in which he's scored in double figures.
"I don't ever think like that. Those aren't records to me," Self said, asked if he knew Mason needed to hit two free throws at :25.7 to keep his string alive.
ISU game next: KU (18-3, 7-1) will meet (16-4, 6-2) Iowa State at 8 p.m., Monday, in Allen Fieldhouse.
"We owe 'em," KU freshman Kelly Oubre Jr., said simply. Iowa State beat KU, 86-81, on Jan. 17, in Ames.
Iowa State and West Virginia currently are a game behind KU in the Big 12 standings.
"I won't even mention that. I'll mention they beat us two weeks ago," Self said. "That's probably enough of a (thing to) stress. I'll not say anything about first place."
Whoops: Wayne Selden Jr. accidentally caused teammate Brannen Greene some pain during a quick celebration.
"I got him in the throat and I felt pretty bad about that," Selden said. "I don't know my own strength sometimes."
Greene initially lost his breath, hunched over, and began coughing. He quickly recovered and did not show any troubling signs from the accident.
This, that: Self won his 550th career game against 177 losses. He's currently tied for 16th all-time with Miami head coach Jim Larranaga among active Division I head coaches with 550 victories. ... KU is 188-92 against K-State, including a 41-4 mark in Big 12 games. KU is 45-18 versus KSU in Allen. ... Overall, KU has won 19 in a row in Allen. KU is 185-9 at home under Self. ...  Up until the 12:02 mark in the second half, Kansas State only had three players make a shot. ... Self used eight players (coaches' decision). ... In the last four games, KU's bench has outscored the opponent's bench, 111-28 (31-7 against Oklahoma, 31-8 against Texas, 35-4 at TCU and 14-9 against K-State). ... Selden set a new career high with four blocks. Selden's four blocks also tied the most by an individual Jayhawk this season (Cliff Alexander four against Michigan State Nov. 30, 2014). ... Graham's four assists and zero turnovers against K-State now gives him 24 assists to just three turnovers in seven games since returning from an injury against Georgetown on Dec. 10, 2014. ... Greene has made 10 of his last 13 threes.
---
More news and notes from Kansas vs. Kansas State
---
More like this story on KUsports.com