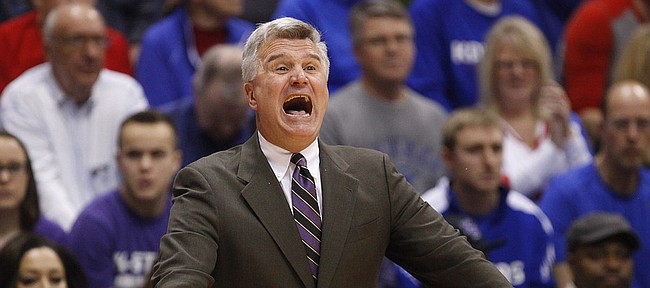 Photo Gallery
Kansas basketball v. Kansas State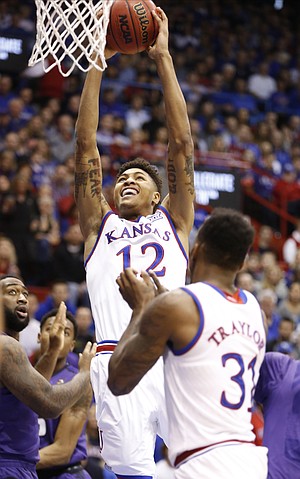 Images from Saturday's game between the Jayhawks and Wildcats at Allen Fieldhouse
Podcast episode
Kansas basketball coach Bill Self discusses the Jayhawks' Saturday home win over rival Kansas State, and wonders why KU can look very different on the floor at various portions of the same game.
Podcast episode
Kansas basketball players Perry Ellis, Wayne Selden Jr. and Kelly Oubre Jr. address the media following the Jayhawks' Sunflower Showdown victory against Kansas State on Saturday at Allen Fieldhouse. Selden says KU took some small steps in the right direction, but the Jayhawks will have to be better on Big ...
KANSAS 68, K-STATE 57
Following Saturday's 68-57 loss to Kansas in Allen Fieldhouse, Kansas State basketball coach Bruce Weber made it clear that he knew the formula for competing with the Jayhawks on their home floor.
"If you're gonna win here, you've gotta guard them and fight them, and I'm not saying with fists," said Weber after a game in which his Wildcats did very little of either.
Landing a couple of punches might not have hurt the Wildcats, who fell to 12-10 overall and 5-4 in Big 12 play and took plenty of abuse from the Jayhawks (18-3, 7-1), particularly during the opening eight minutes in which KU built a 20-5 lead.
After the game Weber talked about his disappointment with the way his team competed. And during the timeout that followed his team falling into that 15-point hole, the K-State coach demonstrated what he wanted to see, first by screaming at forward Nino Williams and then by turning to grab a nearby clipboard and slamming it to the ground in the KSU huddle.
Asked about the outburst, Weber was calm but blunt.
"(I was) just disappointed," he said. "We talked about having some pride and guarding and not letting them just drive down the lane and get layups."
The Jayhawks got plenty of layups — and dunks — during a first half that featured Kansas shooting 41 percent from the floor and K-State shooting just 17 percent. The Wildcats made just six first-half field goals, two of which were set up by assists.
The Wildcats improved a great deal in the second half, when they shot 56 percent from the floor and used 13 points from Marcus Foster and 12 more from Thomas Gipson to keep KU from making the final score an embarrassment. The Wildcats routinely kept the deficit around 11 or 12 points throughout the second half, but every time they were there, they watched the Jayhawks push it back to 15 or 16 instead of cutting it to single digits.
Weber opened his postgame meeting with the media by praising the job KU coach Bill Self has done and the play of junior forward Perry Ellis.
"He's just rock solid," Weber said of Ellis. "Even last year he was. But because (he's) a no-frills (player), people forget about him."
Ellis led the Jayhawks with 16 points and 12 rebounds and reached double digits in both categories by halftime. According to Weber, it was numbers and players like those that beat K-State on Saturday, not the mystique of the building or anything like that.
"They do it to everybody," Weber said of the early burst that paced KU to victory. "You have to give credit to Coach Self and what he's done with this group. To be (7-1) at the turn in the best league in the country, it's a mixture of some veterans and Frank Mason's involvement and Kelly (Oubre, 8 points, 9 rebounds) and making some strides."
---
More news and notes from Kansas vs. Kansas State
---
More like this story on KUsports.com