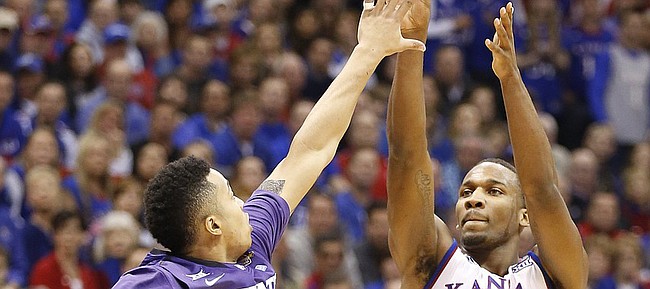 Photo Gallery
Kansas basketball v. Kansas State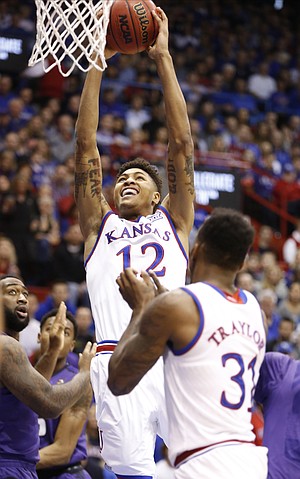 Images from Saturday's game between the Jayhawks and Wildcats at Allen Fieldhouse
Podcast episode
Kansas basketball coach Bill Self discusses the Jayhawks' Saturday home win over rival Kansas State, and wonders why KU can look very different on the floor at various portions of the same game.
Podcast episode
Kansas basketball players Perry Ellis, Wayne Selden Jr. and Kelly Oubre Jr. address the media following the Jayhawks' Sunflower Showdown victory against Kansas State on Saturday at Allen Fieldhouse. Selden says KU took some small steps in the right direction, but the Jayhawks will have to be better on Big ...
KANSAS 68, K-STATE 57
When they caught the first glimpse of Wayne Selden's fresh haircut, most of the customary 16,300 spectators who jammed into Allen Fieldhouse on Saturday probably figured the Kansas University sophomore shooting guard was trying to change his luck by lopping off about 80 percent of his hair.
Not the case. The motivation for tightening up his look means more to Selden than breaking a shooting slump.
"My mom's in town and I felt like I needed to switch it up a little for her," Selden said.
He also couldn't have a bad game in front of her, since it was only her second trip of the season from Boston, the first coming way back in October for Late Night in the Phog.
"I couldn't have," he said. "I would have gotten in trouble."
Selden contributed 14 points and a career-high four blocked shots in a 68-57 victory against Kansas State, a game that for most of the afternoon felt more like a 20-point blowout.
Selden still hasn't found the touch on drives to the hoop, that mystery lingers, but he did look more comfortable and put his stamp on the game in a lot of areas. He made 3 of 6 three-point shots and just 2 of 7 inside the arc. On the season, Selden's shooting a respectable 36 percent from three, but just 32.7 percent on two-point shots.
He quickly deflected credit for his most exciting play of the game, one during which he sprinted down the court to block a break-way layup off the board.
"I had messed up by not being back already, so I felt I had to make up for it," Selden said.
For the most part, Selden has done a nice job of not turning a miss from close range into two bad plays by letting it distract him, but on that second-half play, he appeared to still be thinking about the missed runner instead of turning and running back on defense. On another occasion, reminiscent of former teammate Andrew Wiggins, Selden let his man blow by him and recovered in time for a spectacular blocked shot.
Selden said he couldn't remember another four-block game.
"Maybe in high school, when I was playing center," he said.
Different from most Kansas teams in that it doesn't have a pure center, this team needs everyone doing his part to camouflage the lack of a rim protector. Selden did more than his part against the fading Wildcats.
The moment the game ended, he and everyone else polled said they turned their attention to avenging the loss in Ames to Iowa State, which visits Allen Fieldhouse for a Big Monday match between the Big 12's best teams.
"They outplayed us and out-toughed us in Ames, and I feel like we didn't play our best," Selden said of the 86-81 loss. "...We're really looking forward to Monday."
He's not alone. For two Big 12 towns, Super Bowl Sunday will be a nice way to take minds off counting down the minutes to the much bigger game that takes place the following day.
---
More news and notes from Kansas vs. Kansas State
---
More like this story on KUsports.com