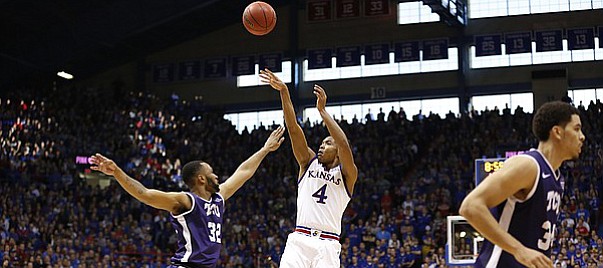 Devonté Graham, who hadn't hit a shot in the last four games, scoring two points total in that span, exploded for a career-high 20 tallies in Kansas University's 81-72 victory over TCU on Saturday in Allen Fieldhouse.
The key to the radical turnaround?
"Haircut. There's no question. He was prepared. He got it trimmed yesterday or whenever," KU coach Bill Self said after the 6-foot-2 freshman point guard from Raleigh, North Carolina went 7-for-7 from the field, 2-of-2 from three-point land and four of six from the free throw line.
Photo Gallery
Kansas basketball v. TCU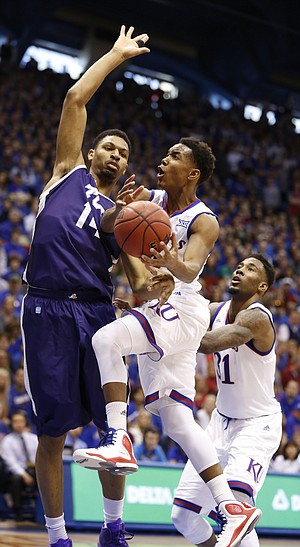 Images from Saturday's game between the Jayhawks and Horned Frogs at Allen Fieldhouse.
Podcast episode
Following his Kansas basketball team's 81-72 home win over TCU, coach Bill Self discusses the standout performances of backup point guard Devonté Graham and starting forward Perry Ellis, as well as numerous other topics.
Podcast episode
Kansas basketball players Perry Ellis, Devonté Graham and Jamari Traylor discuss the Jayhawks' 81-72 home win over TCU, and the contributions of manager-turned-walk-on Chris Huey, who got to play in the final minute.
KANSAS 81, TCU 72
"Perry (Ellis, 23 points) was great, but Devonté won the game for us. I wish he got his hair cut a long time ago. It may have worked out better," Self added, smiling.
Graham, who scored 11 points the first half (he'd totaled eight points combined in the last six games), actually visited the barbershop on Saturday morning, just a few hours before tip.
"That's what we've been joking about. Coach has been telling me to get a haircut for a minute," said Graham, who had three assists against three turnovers in 27 minutes.
"Once Wayne (Selden, Jr.) got his hair cut, he started shooting the ball better. I went this morning and trimmed it down. I came out and was making shots. It's kind of a coincidence," Graham added.
Before Saturday, Graham had scored in double figures in one other Big 12 game — Jan. 17 at Iowa State. Coincidentally, he also was perfect from the field (3-for-3, seven points) against TCU in the first meeting between the squads on Jan. 28.
"I've been on him daily to become aggressive," Self said. "Today he was aggressive. He got in the paint, made a couple key plays as far as dishing off to get us some easy baskets. It's the best anybody's probably done in getting in the paint forcing help and getting easy baskets behind it all year long. Hopefully this will be a springboard for him."
Graham said he's spoken with Self a lot the past several weeks.
"I mean I haven't been to his office, but after practice he talks to me every day," Graham said. "If I have a good practice, if I have a bad practice he tells me what I need to be doing. The main thing he's been telling me is be aggressive, play my game because I've been too passive, not attacking the basket. That's what I tried to do tonight."
He admitted it was nice to have a perfect night from the floor after making just two of his last 12 shots since the last TCU game.
"I think some of it might had to do with luck, 7-for-7," Graham said. "I have been working on my shot lately because I haven't been shooting well."
Graham and junior forward Ellis combined for 43 points off 16-of-17 shooting. Ellis hit nine of 10 shots and five of 10 free throws.
"It was important to our team for him to have a big game," Self said of Ellis, who missed what would have been a game-winning layup at the buzzer on Monday at West Virginia.
"The missed shot against West Virginia ... we have not made a big deal out of that at all. He just missed a shot. He was off balance and rushed and everything. I know he cared. I know it hurt him. He probably felt he let us down. He didn't. He played very well in that game. (Michael) Jordan, if I'm not mistaken, missed a lot of shots, too," Self added. "Everybody does. If you play competitive ball, you do. I hope that wasn't his motivation to play well. I hope it's just because it was the next game. It's a way he needs to play because I thought he played very well."
Ellis had a vicious one-handed dunk off a lob from Frank Mason III (14 points, five assists) and followed that with another one-hander off a steal in the second half.
"He made a great play, got the dunk, came back and got the steal and dunk. The fieldhouse went crazy. Everybody on the bench went crazy," said forward Jamari Traylor, who had eight points and three boards in 24 minutes on a night forward Cliff Alexander scored just two points with two boards in 11 minutes.
"I don't know where to rank it, but it was definitely up there," Traylor added of Ellis' jam off the lob.
Now 22-5 overall and 11-3 in the league, KU travels to Kansas State on Monday for an 8 p.m., tip. TCU fell to 16-11, 3-11.
---
More news and notes from Kansas vs. TCU
---
More like this story on KUsports.com