A year ago, TCU men's basketball coach Trent Johnson left Lawrence mumbling half-hearted comments about ending his own life.
Not Saturday night. Instead of sitting at the post-game podium down and depressed about the state of his team, Johnson sat upright and proud, byproducts of an 81-72 loss that clearly demonstrated just how much his Horned Frogs had grown between trips to Allen Fieldhouse.
"The last three years I've been here, he's cleared his bench with about 10 (minutes) to go," said Johnson of KU coach Bill Self and TCU's Lawrence losses of 30 and 26 points during the past two seasons. "That's how I look at it."
Photo Gallery
Kansas basketball v. TCU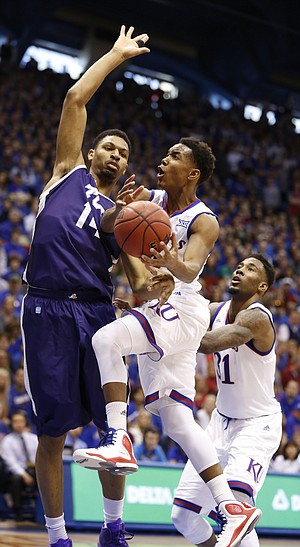 Images from Saturday's game between the Jayhawks and Horned Frogs at Allen Fieldhouse.
Podcast episode
Following his Kansas basketball team's 81-72 home win over TCU, coach Bill Self discusses the standout performances of backup point guard Devonté Graham and starting forward Perry Ellis, as well as numerous other topics.
Podcast episode
Kansas basketball players Perry Ellis, Devonté Graham and Jamari Traylor discuss the Jayhawks' 81-72 home win over TCU, and the contributions of manager-turned-walk-on Chris Huey, who got to play in the final minute.
KANSAS 81, TCU 72
There was no bench-clearing formality on Saturday, save for Self inserting manager Chris Huey into his first and only game as a Jayhawk with 35 seconds to play. Instead, there were big buckets, tough rebounds, hard fouls and strong runs. And a few of them even came from Johnson's troops, who out-rebounded Kansas 33-29, won the turnover battle 14-13 and even made more three-pointers (5-4).
"That's probably about as good as we've played on the road," Johnson said. "For us to be in this position, where we had a chance down the stretch, it speaks volumes."
TCU's game plan on Saturday was simple: Keep the pace slow by emphasizing half-court offense and defense and fight like mad when the Jayhawk-sized tidal waves came.
"We knew we were gonna take some punches," said TCU senior Trey Zeigler, one of three players to reach 20 points on Saturday (KU's Perry Ellis and Devonté Graham were the others). "And we just tried to keep battling and play through their runs."
The fact that the Horned Frogs believed their plan would work — and why wouldn't they, coming in on the heels of back-to-back home wins over Oklahoma State and Kansas State — spoke further about their progress. Of course, believing something will work and actually getting it to are different things, and the Frogs (16-11 overall, 3-11 Big 12) found it difficult to sync up the two goals.
"They put it on you to really be good," said Johnson, tipping his cap to KU's defense, which held TCU to 41-percent shooting, 17 percentage points lower than KU's game total. "They're just so good mentally, physically, and they're tough."
TCU matched KU's toughness. But when Ellis and Graham helped the Jayhawks (22-5, 11-3) find easy buckets, the pressure to match that while also trying to stop it proved to be too much for the visitors.
"Our program, our team, is not there yet," Johnson said. "Let's just be honest about it. But we played 'em tough at home."
Added Zeigler: "This is one of the toughest places in the country to play, but we felt like we were in the game for the part."
---
More news and notes from Kansas vs. TCU
---
More like this story on KUsports.com