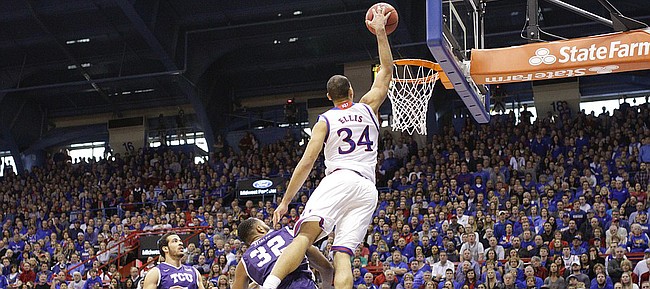 Brannen Greene pulled down the rebound and whipped a baseball pass to Frank Mason III to the left side near mid-court. Mason took a couple of dribbles and sent a high lob toward the rim, maybe a little too high. Perry Ellis soared way over the defender, higher than the perception many have of his leaping ability, far above the criticism sent his way five nights earlier for missing a shot.
And with one hand, Ellis corralled the pass and hammered it through the net. And, upset of all upsets,  the junior forward from Wichita who is so stoic he makes the guards at the Buckingham Palace seem like drama queens by comparison, cracked a smile. The usual Allen Fieldhouse sellout crowd of 16,300 exploded with gratitude for an amazing play and Ellis allowed himself to enjoy it. The sequel came quickly after he made his free throw. Ellis stole the ball near mid-court and this time it was his speedy dribble that he showcased on his way to a dunk that gave his team a game-high 16-point lead in Saturday's 81-72 victory vs. TCU.
Ellis beat himself up badly for not hitting the game-winning shot at the rim Monday night in Morgantown, West Virginia, where KU lost by a point. But nobody should have been surprised to see him bounce back with a terrific game. He's a perfectionist, but he doesn't have a pouty bone in his body.
Photo Gallery
Kansas basketball v. TCU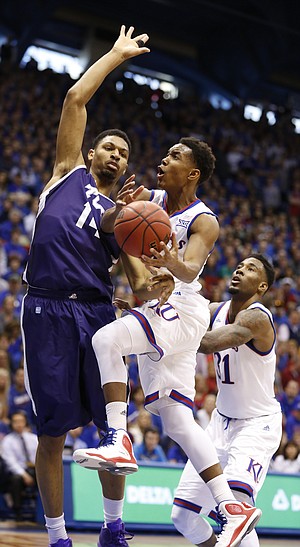 Images from Saturday's game between the Jayhawks and Horned Frogs at Allen Fieldhouse.
Podcast episode
Following his Kansas basketball team's 81-72 home win over TCU, coach Bill Self discusses the standout performances of backup point guard Devonté Graham and starting forward Perry Ellis, as well as numerous other topics.
Podcast episode
Kansas basketball players Perry Ellis, Devonté Graham and Jamari Traylor discuss the Jayhawks' 81-72 home win over TCU, and the contributions of manager-turned-walk-on Chris Huey, who got to play in the final minute.
KANSAS 81, TCU 72
Ellis responded with 23 points, seven rebounds, two assists and two steals.
"It was tough, man," Ellis said of the days following the Morgantown miss. "I had a chance to make it, but I didn't, unfortunately. But everybody kept me up. Family, coaches, everybody just told me to stay positive and I did."
It's not as if he didn't allow himself to watch the play in which Jamari Traylor hit him with a perfect pass from out of bounds to inside the opposite free-throw line. After West Virginia guard Juwan State cut in front of Ellis, throwing off his footwork and disrupting his rhythm, Ellis rushed and missed a shot at point-blank range.
"Yeah, I watched it, man," Ellis said. "Just a chance to get better, see what I could have done."
What did he learn?
"The thing is, the moment was so fast," he said. "I didn't know how much time was left. I guess I could have made a quick glance at the time, so I could gather myself a little better. That's the only thing."
Ellis did a terrific job of posting up against the Horned Frogs and Devonté Graham did a nice job of finding him early. But then for a long stretch in the first half, teammates didn't get him the ball.
"I mean, I was just trying to post hard, it was a little frustrating," Ellis said. "I just kept trying to post hard and get good position. My teammates, they were looking for me, though, the whole game. They were talking to me saying, 'Keep posting hard. We see you.' That kept me motivated."
At one point, when Ellis was at the free-throw line for a shot, a voice from the stands broke the silence: "Keep feeding the post!"
The Jayhawks did and there was no stopping Ellis. He made nine of 10 shots from the field and had four dunks. After he used his patient, precise footwork to free himself for a bucket, Ellis pointed his finger toward the floor and twirled it. He revealed later that teammates call him "The Blender" because of how he pivots in all directions, or as Ellis put it, "When I get it in the post, I'm spinning a lot.
"That was the first time," Ellis said of making a gesture after a bucket. "It felt good. It got my teammates excited to see me do that."
Not quite as excited as the one-handed slam did.
"That was one of the better dunks I've had," Ellis said. "It got my teammates amped up, myself as well."
That's not easy to do, but a wild week of highs and lows just might have brought Ellis out of his shell a little, which could make a really good college basketball player even better.
---
More news and notes from Kansas vs. TCU
---