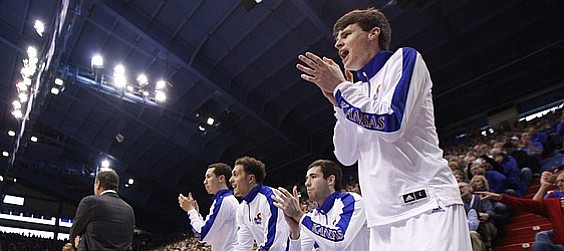 Kansas University fifth-year senior basketball manager Chris Huey, who practices regularly with the Jayhawks, trading elbows with the likes of Perry Ellis, Jamari Traylor, Landen Lucas and Cliff Alexander, on Saturday was given the opportunity to suit up and play for the Jayhawks in an actual game.
The 6-foot-7, 185-pound K.C. Bishop Ward High graduate, who gave up competitive basketball his freshman year of college at Saint Mary in Leavenworth because of a collapsed lung, gladly accepted coach Bill Self's offer to join the active roster for Saturday's KU-TCU game in Allen Fieldhouse.
Huey, who now returns to his duties as manager for the rest of the season, entered the game with 35 seconds left and missed a driving layup at :14.
"It was really indescribable. I can't really put into words how it felt. I'm enjoying every minute of it," Huey, who is nicknamed "Scarecrow" for his slender build, said after KU's 81-72 victory.
Self told him after practice Thursday that he would be allowed to dress for the game. KU had gone through all the proper steps to make sure he was eligible and it was full-steam ahead.
"It took a while to process," said Huey. "All of Thursday, after I found out I was in shock. It didn't hit me until yesterday when I got fitted for gear. I didn't sleep much last night, had a lot of nerves today. I enjoyed every minute of it. It's probably the best thing that's ever happened to me."
He explained his thought process on the missed layup, with the Jayhawks acting as if they were content on running out the clock on the victory.
"I heard their coach saying they weren't going to foul, so I went to the basket," Huey said. "I knew the kid (defender) was going to play off and try to block it from behind. I leaned back into him and leaned forward to shoot it and I shot it too strong."
The miss didn't matter. What did was the opportunity.
"He practices every day in 5-on-5 drills, has to go against Jamari (Traylor), Perry (Ellis), 'Lando' (Lucas), Cliff (Alexander). He had to get stitches from being elbowed. He works hard. He deserves to be out there," said guard Devonté Graham.
"He helps us out so much, the things he does. It was great to see him out there," noted forward Ellis.
"It was good to have him get rewarded like that. It's pretty special," Traylor noted.
Coach Bill Self said: "He does a lot with our team, more than the other managers from a playing standpoint. He's the biggest guy so he guards, beats people (KU bigs) with dummies (pads), all 140 pounds of him. I decided since he was a senior it would be a pretty cool deal. He won't suit anymore. This is his one shot. I let the players know yesterday what was going on. They were excited for him. I know it meant a lot to him growing up in K.C. and meant a lot to his family."
Huey's family members applauded as he finished a post-game interview on James Naismith court. Chris had yet to answer the 90 messages on his cellphone.
"It's been surreal. He's worked hard as a manager, put in a lot of time. I'm incredibly proud beyond words. It was a fabulous day," Huey's mom, Joanne, said.
When he went in the game ... "I started screaming. I turned to people behind me and said, 'That's my son,''' Joanne beamed. "I didn't think it'd happen because the game was so close."
There was always this chance her son might enter a game in his final season at KU, his third season as manager.
"The difference this year versus the last two is he's been part of the scout team, practicing with them since almost the beginning of the season," she said. "He's on the court working every day with them, getting battered and bruised, requiring stitches. He became part of the team."
Huey said he might want to get into coaching or scouting as a career.
"I'm trying to enjoy this year and take everything as it comes. It all goes by so fast," Huey said. "More importantly (than him playing), we won and hopefully we can win a Big 12 championship. That's what I care about more than this."
This, that: KU coach Self confirmed after the game that junior Evan Manning is on scholarship this semester. ... KU athletic director Sheahon Zenger, associate AD Jim Marchiony and former KU athlete Gary Padgett will represent KU today at Dean Smith's Memorial Service in North Carolina. ... ESPN's GameDay will be in town for the KU-Texas game, set for a 4 p.m., tip on Feb. 28. The GameDay show will originate from Wichita State for its normal morning portion, but then conduct an hour-long pre-game show at 3 p.m., in Allen Fieldhouse. Only UT-KU game tickets will be allowed for admission. ... Ellis, who hit nine of 10 shots, joined Markieff Morris (9-for-10, 90 percent), Julian Wright (10-for-11, 91 percent) and Mark Randall (11-for-12, 91 percent) for the highest percentages in a single conference game since the 1988-89 season.
---
More news and notes from Kansas vs. TCU
---
More like this story on KUsports.com