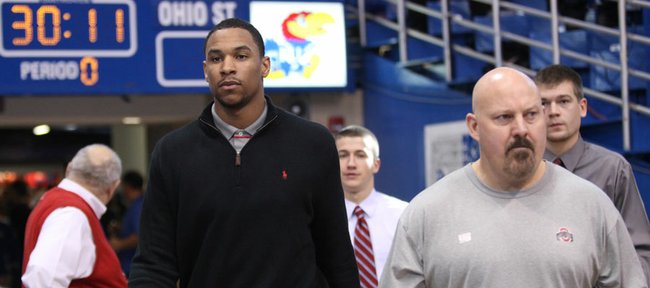 Podcast episode
Kansas coach Bill Self talks to reporters following the Jayhawks' 78-67 victory over Ohio State on Dec. 10, 2011.
Videos
KU vs. Ohio State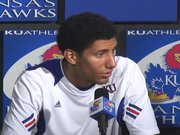 Kansas defeated Ohio State, 78-67 on Saturday, Dec. 10, 2011 at Allen Fieldhouse.
KU vs. OSU
Although the big day is still two weeks away, Ohio State basketball coach Thad Matta thought he was offering Bill Self, his Kansas University counterpart, glad holiday tidings prior to Saturday's showdown in Allen Fieldhouse.
Before the game, OSU officials announced the Buckeyes would play without sophomore All-America candidate Jared Sullinger, who entered averaging 19.1 points and 10.3 rebounds per contest.
Matta delivered the news with a metaphorical shiny ribbon.
"As I told coach Self when we shook hands before the game, I said, 'Merry Christmas. Early,'" Matta said after second-ranked OSU's eventual 78-67 loss to No. 13 KU. "(Sullinger) was trying as hard as he could to convince us (to let him play). But I'm looking out for my players' best interest, and I'm looking out for our program's best interest."
Matta said Sullinger would have played if Saturday's match-up had been an NCAA Tournament game. It wasn't. So he didn't. And Matta was fine with that.
"I got a call from a writer, who asked me, 'How can you not play him in the biggest game of the year?'" Matta said. "I don't think that way. This is one game of 40 we're gonna play."
With Sullinger out of OSU's lineup, the Jayhawks were able to do a lot of things they might not have had the big man from Columbus, Ohio, been patrolling the paint. KU outrebounded OSU, 31-30, and routinely found ways to get to the rim off the dribble. That opened up the outside, where the Jayhawks knocked down nine of 17 three-point attempts.
"It's a tremendous change (without him)," senior guard William Buford said of playing without Sullinger. "He's the best big man in the country, maybe the best player in the country. When you're missing out on that, you're going to have difficulties and have to make some adjustments."
Ohio State missed more than Sullinger's statistics Saturday. Matta said Sullinger often had been the player who gathered the team together when times were tough. Although he was pleased by the fire and fight he saw in his other players against Kansas, Matta said the Buckeyes were not the same team without their biggest presence.
"Jared's a winner," Matta said. "He wins. Thus far in his career, he's lost three games, four now, and that's rubbed off on some of our guys."
Matta compared his team without Sullinger to the Jayhawks without their own All-America candidate.
"It'd be very similar if they played without (Thomas) Robinson today," Matta said. "In a lot of ways, Jared is a security mechanism. When the ball's in his hands, you know good things are gonna happen."
Kansas led from start to finish and forced the Buckeyes to rely on others for their offense. Buford led OSU with 21 points on 8-for-23 shooting.
"When you make mistakes against Kansas, they're so good they make you pay," Matta said. "And we made some key mistakes. We lost to a great, great basketball team in a phenomenal environment."