Podcast episode
Kansas coach Bill Self talks to reporters following the Jayhawks' 78-67 victory over Ohio State on Dec. 10, 2011.
Videos
KU vs. Ohio State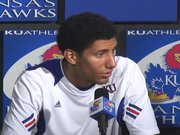 Kansas defeated Ohio State, 78-67 on Saturday, Dec. 10, 2011 at Allen Fieldhouse.
KU vs. OSU
Now that under-appreciated Kansas University senior guard Tyshawn Taylor will miss time after he undergoes surgery to repair a torn meniscus of the right knee, it will be on Elijah Johnson to bring along freshman Naadir Tharpe.
Johnson's a good one for the task because he can bank on what worked for him when he was the youngest, smallest guy on his team in Gary, Ind.
"Elijah was the first kindergartner to make a fifth-grade team in Indiana elementary school history," said his father, Marcus Johnson, as he waited outside the locker room to congratulate his son on his performance in Saturday's 78-67 victory against Ohio State. "When Elijah was in pre-school, I was coaching a high school team, and he used to practice with my freshmen, so he knew the game pretty well. It wasn't like he was just a kindergartner playing with older people."
Marcus, who lives in Las Vegas, where Elijah moved after seventh grade, picked a good game to see his son live for the first time this season. Elijah broke from a shooting slump and scored 15 points on 5-of-7 three-point shooting. That elevated Johnson's season accuracy rate to .333, still not reflective of his ability.
"He's a really good shooter, he just hasn't shot it well," ninth-year Kansas coach Bill Self said. "When you look at teams, everybody has issues, things not related to basketball. It was a big deal to him his dad got to see him play today. I just think little things like that make a difference. The kid's struggling, he's got a parent in the stands, and he was really good today. He was especially good in the first half."
Johnson does what slumping shooters are supposed to do. He keeps shooting.
"I really try not to pay my shot any mind because when you think about your shot, that's when it can go downhill for you," Johnson said. "I never worried about my shot. I know I can shoot the ball, and I'm pretty sure everyone in Kansas knows I can shoot the ball. It just hasn't been falling. I try to focus on guarding because I feel like it loosens you up. Today, I felt like I shot the ball like I had the last couple of games, and today they were falling."
Even those who might crack that new Kansas football coach Charlie Weis should recruit Tyshawn Taylor to play defensive back because he's so good at creating turnovers have to respect what Taylor did this week. One day after tearing his meniscus, he played 34 minutes in helping Kansas stave off a tough Long Beach State team Tuesday. Four days after that, Taylor had a career-high 13 assists (and seven turnovers) in 35 minutes to help KU defeat the nation's No. 2 team, which played without No. 0, Jared Sullinger.
The break in the schedule enabled Taylor to delay the surgery so that he wouldn't miss as many games. He put the team first and played in pain.
Without complications, Taylor should be back for the Jan. 4, Big 12 opener against Kansas State in Allen Fieldhouse, if not sooner. After the Davidson game, Kansas plays at USC (Dec. 22), and in home games against Howard (Dec. 29) and North Dakota (Dec. 31).
The forced experience will be good for Tharpe's development. Taylor's ability to score and defend will be missed. Johnson just might be heating up at the right time.