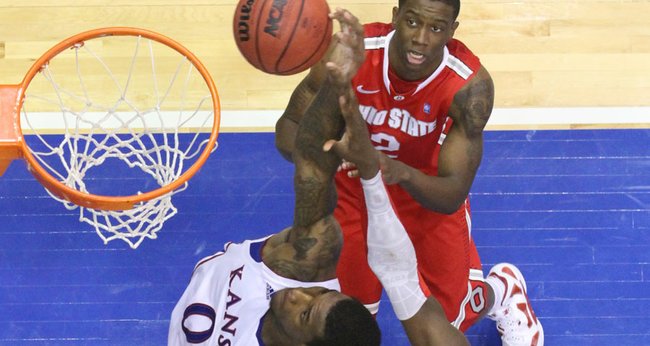 Podcast episode
Kansas coach Bill Self talks to reporters following the Jayhawks' 78-67 victory over Ohio State on Dec. 10, 2011.
Videos
KU vs. Ohio State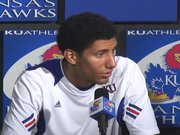 Kansas defeated Ohio State, 78-67 on Saturday, Dec. 10, 2011 at Allen Fieldhouse.
KU vs. OSU
Kansas University junior forward Thomas Robinson was whistled for a technical foul for yelling at a Buckeye player following a Tyshawn Taylor bucket with 8:44 left, KU up, 59-48.
"I had some up-and-down moments in the game as far as dealing with frustration," Robinson said. "I give Elijah (Johnson) a lot of props because he is always good at coming to me and telling me, 'You're fine, you're good, we're coming to you. Now go finish this game for us.' It was the same thing today. My teammates just kept talking to me and telling me to finish the game, and that's what happened."
He had 10 straight points for KU in one stretch, upping a 66-61 lead to 76-67.
• Elijah Johnson on the confidence this gives the team: "It's the game we needed. We knew we wouldn't fail three times in a row. We knew we wouldn't. We had to go to New York (to play Kentucky), and we had to meet Duke in Maui, but no one comes in the fieldhouse and just beats us. It was kind of set up, if you ask me. We just had to go through with the plan, and that's what we did."
• More on Taylor: Kansas coach Bill Self said Tyshawn Taylor didn't risk anything by putting off his meniscus surgery a few days.
"They could have done surgery Wednesday. The doctors felt like putting it off four days would be strictly on pain tolerance with him. He said there's no way he's sitting out," Self said of Taylor, who was hurt at practice Monday and played against Long Beach State on Tuesday.
• Happy holiday: OSU coach Thad Matta said he told Self, "Merry Christmas," before the game when he announced Jared Sullinger would be sitting out.
"I don't remember his exact two words were, 'Merry Christmas,'" Self said. "I think there were a couple other words thrown in there describing the holiday. He's a great guy, and obviously, we caught a break today."
• Recruiting: Geron Johnson, a 6-foot-3 sophomore guard from Garden City CC, attended the game on an official recruiting visit. He averaged 16.8 points a game his senior year at Dunbar High in Dayton, Ohio. He attended Chipola (Fla.) CC, but was removed from the team after one year, reportedly because of legal troubles.
• Stats, facts: KU is 6-3 all-time against Ohio State with four straight wins over the Buckeyes. ... KU has won 47 straight home games against nonconference opponents. ... KU shot 58.3 percent for the game, which was its second-highest total of the season. The Jayhawks shot 65.2 percent in the first half, which was their second-highest shooting percentage in a half this year. ... Ohio State's 38.7 percent shooting from the field was its lowest percentage of the season. ... Thomas Robinson was 7-for-9 shooting. ... Over the last three games, Robinson is 23-for-32 from the field (.719). ... Kevin Young scored a season-high 14 points, his KU career high, Saturday. Young's overall career high (29) came at Loyola Marymount in 2010. ... Taylor's career-high 13 assists were most by a Jayhawk since Aaron Miles had 13 against Emporia State in 2002.