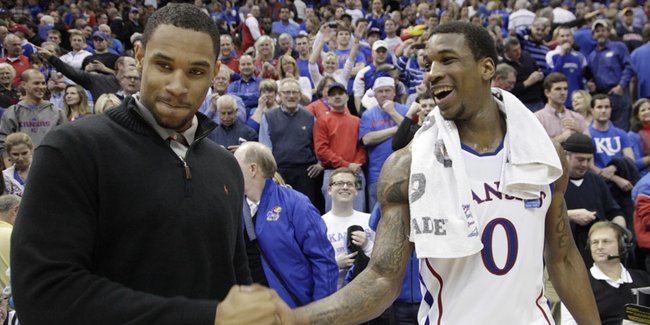 Podcast episode
Kansas coach Bill Self talks to reporters following the Jayhawks' 78-67 victory over Ohio State on Dec. 10, 2011.
Videos
KU vs. Ohio State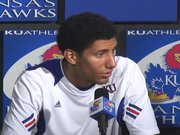 Kansas defeated Ohio State, 78-67 on Saturday, Dec. 10, 2011 at Allen Fieldhouse.
KU vs. OSU
Ohio State sophomore sensation Jared Sullinger, who has a bad back, didn't play in Saturday's marquee matchup against Kansas University.
KU senior point guard Tyshawn Taylor, who has a bum knee, did participate. He dished a career-high 13 assists against seven turnovers, while scoring nine points and grabbing three rebounds in the No. 13-ranked Jayhawks' 78-67 victory over the No. 2 Buckeyes in Allen Fieldhouse.
"I wasn't missing this game," Taylor said emphatically. "No discussion at all."
The gutsy Hoboken, N.J., native, who suffered a torn meniscus and sprained MCL in his right knee at practice Monday, played 34 minutes against Long Beach State Tuesday and 35 Saturday, putting off a trip to the surgeon until Sunday.
He'll miss between one and three weeks, with coach Bill Self not yet ruling him out for KU's next game — a Monday, Dec. 19 contest against Davidson at Sprint Center in Kansas City, Mo.
"We don't win the game against Long Beach State unless he plays and we don't win (Saturday) unless he plays," KU coach Bill Self said of Taylor. "He's definitely not 100 percent, but never once complained and never once said he was hurt, never once said anything. I get on Ty because he will turn it over every now and then, but where would we be without him? I think everybody should appreciate how bad he wanted to be out there," added Self, whose 7-2 Jayhawks handed Ohio State its first loss in nine contests.
The Buckeyes, who trailed 9-2 early, 35-29 at halftime, and a game-high 12 points with 10 minutes left, remained competitive without Sullinger. William Buford scored 21 and Deshaun Thomas 19 on a day four Jayhawks scored in double figures. Thomas Robinson led the way with 21 points, while Elijah Johnson had five threes and 15 points, Kevin Young a career-high 14 and Travis Releford 10.
"Don't put an asterisk next to this," Self said. "We beat Ohio State. Without him (Sullinger) they are a top five team and with him, they are a top two team.
"We caught a break," Self conceded, "just like we caught a break when Blake Griffin didn't play at OU. We still went down there and outscored them, 60-25, in a stretch (in an 85-55 win on Jan. 14, 2008). We're not going to apologize for winning this one in any way, shape or form. I hope Jared gets back soon. I hope we get to play them again, because that means we probably would have advanced in the NCAA Tournament."
The Jayhawk players were not about to apologize.
"I'm excited for this win," Taylor said. "They didn't have their best player, but we can't control that. It sucks that he didn't play because I think it would have been a better game. We've got to take it for what it is. We beat the No. 2 team in the country today. That's something for us to be happy about and proud of."
Robinson, who likely would have guarded, and been guarded by Sullinger, had 10 straight points for KU as the Jayhawks stretched a 66-61 lead (at 4:16) to 76-67 (at :29.1).
"The big fella didn't play today and we knew it probably would have been a little difference in the game if he was out on the floor," Robinson said. "They are a great team with or without him, but we still prepared the same way when we found out he wasn't going to play (in warmups).
"It's not Thomas Robinson versus Jared Sullinger," Robinson added. "I know it would have been fun for everybody to watch. It would have been exciting playing against him, but it comes down to my team versus their team."
The Jayhawks were mighty focused to win their first in three tries against a top 10 team. KU had lost to Duke and Kentucky this season.
"I felt our nonconference would not be complete if we didn't get one of them," Robinson said.
Noted Taylor: "At the beginning of the year we circled three games on the schedule. This was the third one. We were 0-2 for the first two and we got this one. Sullinger didn't play, but that's not really our fault."
KU hit 58.3 percent of its shots to Ohio State's 38.7. The Jayhawks had 18 assists to 18 turnovers; OSU 15 turnovers, 12 assists. KU won the rebounding battle, 31-30.
"We had control of the game," Self said, noting that was the plan. "We needed to beat one of the top three teams we played (in nonconference). I told our guys, 'There was no other option but to win this game.' We didn't deserve to win against Kentucky. We got it down to the last minute and didn't beat Duke. We couldn't let that happen today."
As far as Sunday's surgery, Taylor is prepared.
"I'm a little nervous," Taylor said. "I never had an injury to my knee before, but T-Rob had the same injury; Conner (Teahan) had it. They said it wasn't bad. I could be back next game if all goes well. It hasn't really bothered me. It's a little sharp pain when I cut. Surgery is going to make it better. I'll be back 100 percent."
More like this story on KUsports.com