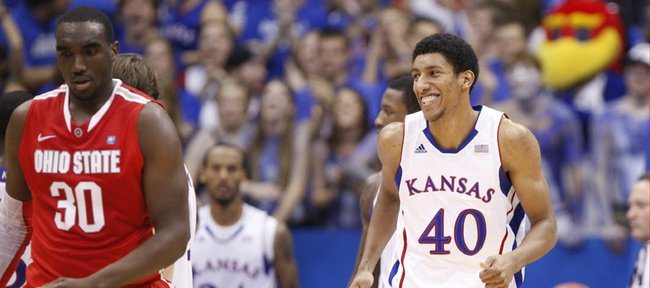 Podcast episode
Kansas coach Bill Self talks to reporters following the Jayhawks' 78-67 victory over Ohio State on Dec. 10, 2011.
Videos
KU vs. Ohio State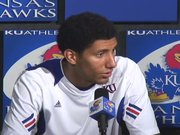 Kansas defeated Ohio State, 78-67 on Saturday, Dec. 10, 2011 at Allen Fieldhouse.
KU vs. OSU
Kevin Young's breakout performance Saturday surprised Kansas University basketball coach Bill Self as much as anyone.
"I haven't seen that, or if I have seen it, then certainly we've made a mistake by not playing him as much," Self said following KU's 78-67 victory over Ohio State. "But that was something today like his coming-out game."
Young, a 6-foot-8, 185-pound junior, finished with a season-high 14 points, making six of eight shots, which included his first six field-goal attempts.
Young also contributed four rebounds and an assist to go with a turnover in his 24 minutes.
"Kevin really bailed us out," Self said. "I thought he was just terrific. That's the Kevin Young we thought we recruited. Maybe this will give him the confidence moving forward. We could use another weapon."
The Perris, Calif., native played 16 minutes in the second half; coming in, the most minutes he'd played in an entire game at KU was 14.
Self admitted that much of the reason for Young's early playing time was trying to get a quicker defender on Ohio State's Deshaun Thomas.
Thomas, OSU's 6-foot-7 forward, scored 15 points in the first half on 5-for-8 shooting, including 3-for-5 three-point shooting.
In the second half, with Young as his primary defender, Thomas had just four points on 2-for-6 shooting.
"Kevin probably had as much to do with us winning the game as anything," Self said. "He scored points for us, but he did a great job on Thomas the second half. Great job."
Young also showed an outside shooting touch, going 2-for-3 from three-point range.
"I think it just came together," Young said. "My shots were falling. I got great open shots thanks to my teammates being able to move the ball and penetrate."
Asked about his individual effort, Young said he was most proud of his ability to set screens to free up others.
"I think a lot of players really don't see the screens as a big deal in the game," Young said, "but not only did it help my teammates get open, it helped me get open as well."
The bottom line for Self was that KU played better with Young in the game.
"He hasn't been defending like that. He hasn't been aggressive like that. He hasn't been a loose-ball guy like that in practice," Self said. "But today, he was a combination of everything, so I thought he was terrific."