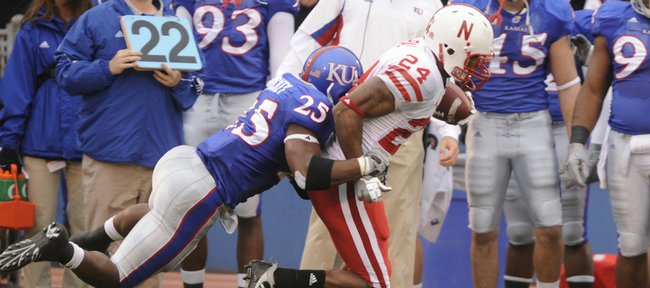 KU vs. NU
Videos
Kansas vs. Nebraska: then and now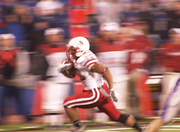 Videos from KU's games against Nebraska from the past several seasons.
Reader poll
Colorado

35%

888 votes

Oklahoma

1%

46 votes

Texas Tech

4%

120 votes

Kansas State

31%

791 votes

Nebraska

21%

552 votes

Undecided

5%

128 votes
2525 total votes.
Reader poll
Todd Reesing

30%

35 votes

Jake Sharp

6%

7 votes

Kerry Meier

45%

52 votes

Darrell Stuckey

18%

21 votes
115 total votes.
Kansas University's pooch kickoff — with the wind and a 17-16 lead — certainly surprised lots of fans Saturday at Memorial Stadium.
Not Nebraska return man Niles Paul, however.
With a running start, he fielded Jacob Branstetter's short boot at the 20-yard line and, with 71⁄2 minutes to play, darted 44 yards to the KU 36.
The Cornhuskers scored the go-ahead TD four plays later en route to a 31-17 victory.
"We'd been watching film. I knew by the way he was coming to the ball how he was going to kick it," Paul said. "The kicking team blocked hard for me and gave me a lane to make a play."
Paul's two-point conversion catch off a scramble and pass from Zac Lee put the Huskers on top, 24-17, just 1:04 after KU had claimed the late lead.
"It's a great feeling, not just winning, but to be good on offense. We scored (with game on line). It's the best feeling you can have," said Paul, who had 244 total yards, including 154 yards off four receptions.
The Huskers (7-3 overall, 4-2 Big 12) held KU three-and-out after the ensuing kickoff, then put the game away with a 10-play, 74-yard drive, capped by a 14-yard TD run by Roy Helu Jr.
Helu, whose 20-yard burst erased KU's 17-16 lead, escaped around end and ran 30 yards on a third-and-10 call from the NU 37, keeping alive the Huskers' final scoring drive that resulted in the insurance points.
"This means a lot. It's a road game in the Big 12 North. They were a hungry team. We knew that coming in here," said Helu, who finished with 156 yards off 28 carries with three TDs.
His performance put Nebraska in a great position to win the North. The Huskers meet Kansas State (6-5, 4-3) Saturday in Lincoln for a spot in the Big 12 title game.
"What happens is in our hands," NU coach Bo Pelini said. "It's at home. We've got to get better as a team this week and be ready to play because I know they will be. Coach (Bill) Snyder will have them ready to play."
The much-maligned Cornhusker offense gained 410 yards to KU's 335. Lee, who worked the whole game, completed 13 of 21 passes for 196 yards. He also rushed for 53 yards off nine carries.
The NU defense did its part. With the game tied 10-10, KU's Kerry Meier caught a Todd Reesing pass and lugged it 16 yards to the NU seven. NU's Dejon Gomes knocked the ball loose, and the Huskers recovered and promptly marched down to kick a field goal.
"It was huge," linebacker Phillip Dillard said of Gomes hustling to force the bobble after getting beat on the pass play. "He didn't feel sorry for himself. He saw an opening to get the ball out. It's what we practice, 'turnover, turnover,' and it paid off."
More like this story on KUsports.com