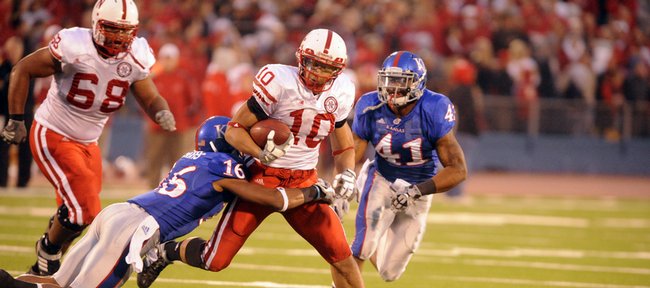 KU vs. NU
Videos
Kansas vs. Nebraska: then and now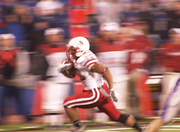 Videos from KU's games against Nebraska from the past several seasons.
Reader poll
Colorado

35%

888 votes

Oklahoma

1%

46 votes

Texas Tech

4%

120 votes

Kansas State

31%

791 votes

Nebraska

21%

552 votes

Undecided

5%

128 votes
2525 total votes.
Reader poll
Todd Reesing

30%

35 votes

Jake Sharp

6%

7 votes

Kerry Meier

45%

52 votes

Darrell Stuckey

18%

21 votes
115 total votes.
Justin Thornton knows there's something that needs to be fixed with Kansas University's defense late in games.
"Week in and week out, we play good all the way up until the fourth quarter," the KU senior cornerback said, "and we give up a run right there at the end that makes it look like they whipped us, and that wasn't the case at all."
Last week, KU's defense needed a stop against Kansas State, but the Wildcats ran it straight at the Jayhawks, picking up three consecutive first downs on eight running plays to burn the final five minutes, 20 seconds.
The scenario was similar for KU in its 31-17 loss to Nebraska on Saturday. Leading by a touchdown, NU took control with 5:15 left and ran 10 straight times for 74 yards. The possession ended with a 14-yard Roy Helu Jr. touchdown run.
"I think every game so far that we've lost, the defense has had a chance to give our offense another shot," KU linebacker Huldon Tharp said, "and we've come up short."
For the second straight year, Helu bullied the Jayhawks in the fourth quarter.
In NU's 45-35 victory in 2008, Helu posted 78 of his 115 rushing yards in the final 15 minutes.
On Saturday, 86 of Helu's 156 rushing yards and two of his three touchdowns came in the final period.
"It's our mind-set. We've just got to get it in our minds that they're not going to get any more points on us, get any more yards — and shut them down," Tharp said. "I'm not sure why, necessarily, we don't have that mind-set right now, but I definitely know we're going to come back strong."
The biggest blow for KU came on third-and-10 with 3:16 remaining. On a simple sweep right, Helu broke containment and raced 30 yards down the sideline.
"Just not the right angle, and he's just a fast back," Tharp said. "I don't know. Mistakes like that are going to happen in a football game."
KU coach Mark Mangino wasn't too harsh on his defenders afterward.
"Our defense looked pretty good to me," Mangino said. "I think we missed some tackles. I think we got out-gapped on a couple of plays. We got cracked and shouldn't have. That's what it looked like to me — some breakdowns more than anything."
The statistics told a different story about KU's defense.
The Huskers' 410 total yards, 18 first downs, 214 rushing yards and 31 points all were the best numbers they'd put up in Big 12 play.
Not only that, NU ripped KU for long plays in the passing game as well.
The Huskers came into the game with just three passes of 35 or more yards in their five Big 12 games.
NU more than doubled that total Saturday, as quarterback Zac Lee completed four 35-plus-yard passes to Niles Paul alone.
"We were so focused on stopping the run after what they did to Oklahoma, they just gashed us on a few plays that, quite honestly, should have been a non-existent play," Tharp said.
Though KU's defense did have one bad break — Thornton's facemask penalty that extended a drive in the fourth quarter — Tharp wasn't making excuses.
"You could call it bad luck, but I see that as kind of a scapegoat," Tharp said. "Our defense had a shot, and we let it slip by, so I'd say it's our fault as a whole."
More like this story on KUsports.com