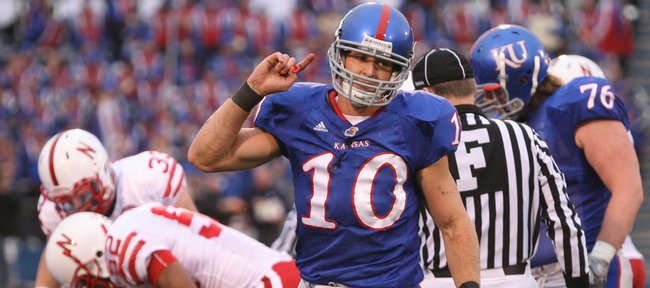 KU vs. NU
Videos
Kansas vs. Nebraska: then and now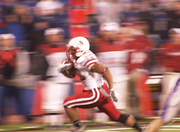 Videos from KU's games against Nebraska from the past several seasons.
Reader poll
Colorado

35%

888 votes

Oklahoma

1%

46 votes

Texas Tech

4%

120 votes

Kansas State

31%

791 votes

Nebraska

21%

552 votes

Undecided

5%

128 votes
2525 total votes.
Reader poll
Todd Reesing

30%

35 votes

Jake Sharp

6%

7 votes

Kerry Meier

45%

52 votes

Darrell Stuckey

18%

21 votes
115 total votes.
In some ways, it seemed like just yesterday that Todd Reesing stretched his arms and started tossing a football on the sideline, warming up to rip off his red shirt, save a sinking game and, as it turned out, push a tradition-poor football program to new heights.
That was three years ago that he rallied the Jayhawks to victory in Memorial Stadium against Colorado. Two years ago, he led KU to 76 points against Nebraska in the same stadium. Last season and early this year, he scrambled his way to so many more home highlights.
Now we'll never get to see Reesing and sidekick Kerry Meier again play a football game on their campus. Nothing hurts the seniors more than the team's losing streak, pushed to five with Saturday's 31-17 loss to Nebraska, but saying good-bye to Memorial Stadium was not so uplifting, either.
"Everyone says it doesn't hit you right away, and it hasn't hit me fully yet, but to think I'll never get to run, or sprint, onto that stadium again with all our fans singing our songs and hearing our chants and just having fun with all our guys ... " Reesing said. "These last four years some of the best memories we're ever going to have. It hasn't gone as we wanted it to. That's the way football is. That's the way life is, but I'm sure going to miss playing here. There's no doubt about that. I've absolutely loved my time here at Kansas. All the guys I've played with. All the coaches. All the fans. It's been a heck of an experience."
During pregame introductions, Reesing sprinted onto the field and jumped onto his parents. He was as jacked to play as he he ever has been. The game, like his final season, turned out to be a tease, rife with potential, ending in disappointment. Still, he, Meier and the rest of the seniors can take pride in knowing they consistently packed a stadium that used to be a third-empty.
"Absolutely," Reesing said. "Just thinking back to my first year here. We didn't have atmospheres like today's. We weren't playing in front of sold-out houses, with people expecting us to win. ... Even on a bad stretch, because sports don't always go as you want them to, to have that kind of support from our fans and alumni is great to see because there are great things to come in Kansas football. It's a speed bump that no one wanted to see, but it happened, and I just hope everyone continues to support these guys because after this senior class is gone we've got a lot of great players here, and I can't wait to see what the young guys can do after this. It's been an amazing experience to be a part of this transformation of KU football, and the intensity and excitement that surrounds it is unbelievable."
This season went south faster than Sammy Sosa went pale, but as Reesing and Meier emphasized, they'll give as much effort in the remaining two games as ever.
"There were a lot of things going through my mind," Meier said of pregame introductions. "Just kind of remembering the important things and the great memories I had and tried to make another great memory today, trying to get out of here with a victory, and we failed to do so."
Even ending on a losing streak, Reesing and Meier will be remembered as two of the biggest winners in Memorial Stadium history.
More like this story on KUsports.com