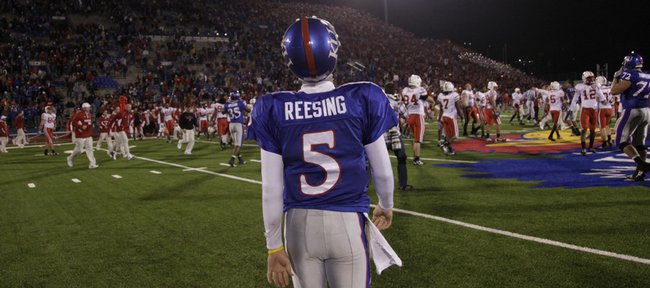 KU vs. NU
Videos
Kansas vs. Nebraska: then and now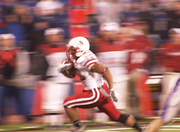 Videos from KU's games against Nebraska from the past several seasons.
Reader poll
Colorado

35%

888 votes

Oklahoma

1%

46 votes

Texas Tech

4%

120 votes

Kansas State

31%

791 votes

Nebraska

21%

552 votes

Undecided

5%

128 votes
2525 total votes.
Reader poll
Todd Reesing

30%

35 votes

Jake Sharp

6%

7 votes

Kerry Meier

45%

52 votes

Darrell Stuckey

18%

21 votes
115 total votes.
They're running out of adjectives.
As Kansas University football players have attempted to sum up their feelings during one of the roughest stretches in the program's recent history — a five-game losing streak that has included a fall from the Top 25 and an increasingly murky postseason fate — they've cycled through them all: tough; rough; hard; difficult; frustrating; disheartening.
There have been plenty more.
Perhaps aware of this shortage of appropriate verbiage, Dezmon Briscoe opted for a slightly more provocative analysis following the Jayhawks' 31-17 Senior Day loss to Nebraska on Saturday.
"It sucks," he said.

It would be hard to argue with the junior wide receiver, especially following what represented the latest chapter in a demoralizing fall from grace for a team that, despite entering the season with visions of a Big 12 North title, now will have to pull a rabbit out of its hat in order merely to qualify for a bowl game.
Since beating Iowa State on Oct. 10 in Lawrence, the Jayhawks haven't won. They've lost in three states, in four stadiums and to teams with various levels of talent, the result being a 5-5 (1-5 in the Big 12) record with two games left to play.
Said senior receiver Kerry Meier, "It's been one of the more difficult things in my life thus far."
But Saturday's game, at least, held a measure of hope. It was Nebraska, after all, and Kansas fans — fickle as they may be, and largely nonplused with the team's lack of success over the past month — respectfully packed into a sold-out Memorial Stadium as a final farewell to a senior class commonly associated with the team's rise to respectability in the past few years.
And with the Huskers' struggling more than expected this season — before beating Oklahoma last week, they'd fallen to Iowa State and snuck past lowly Baylor — there was the sense that the day could be special.

Except it wasn't.
It proved to be a forgettable day, particularly for the team's seniors.
Meier fumbled on the Nebraska four-yard line to kill a potential scoring drive. Jake Sharp dropped what would have likely been a 70-yard touchdown pass in the fourth quarter. And Todd Reesing, while playing better than he has in previous weeks, still struggled at times with accuracy, completing just three of his first 11 pass attempts before settling down to finish 19-for-41 for 236 yards and a touchdown.
Even when they got things right, though, they ended up all wrong.
Following a play in which he wrapped up NU receiver Khiry Cooper for a short loss on a Huskers' third-and-14 attempt, senior defensive back Justin Thornton was flagged for a facemask penalty that gave the Huskers a first down at the KU 20-yard line.
They scored on the next play.
"When it rains, it pours," Thornton said. "And we're getting poured on right now."
Indeed.
It is not a stretch to say that in at least a couple of its recent losses, Kansas has played well enough — with the exception of a turnover here or a coverage breakdown there — to win.
And the same could be said of Saturday's game.
For the first time in four games, Reesing overcame his recent turnover issues — he'd given the ball away 10 times in the previous four games — and the offense managed to move the ball fairly well against the nation's No. 2 scoring defense.
When Reesing connected with Briscoe for a 21-yard touchdown pass with 7:34 remaining, it gave Kansas its first lead and seemed to represent a sign that the team's offense, abysmal as it had been the past month, finally had begun to regroup.
But the Huskers scored on their next two possessions — on touchdowns runs of 20 and 14 yards by NU running back Roy Helu Jr. — as the defense crumpled in the fourth quarter for the second straight week.
"It's kind of been the story of the last couple games," tight end Tim Biere said. "We have been so close every single game and just couldn't get over that hump."
As the window of opportunity for bowl-eligibility grows smaller by the week — "It went from three chances to two chances now," Thornton said — players are doing their best to remain optimistic.

One by one, they rattled off the same things they have for the past four weeks — We're looking ahead, not backward; There are still things to accomplish; Still a lot of football left to play — if not with quite the same level of conviction.
Following Saturday's game, Reesing was the last player to arrive in the postgame press room. He sauntered in quietly, and given his attire — he wore all black: black suit, black shoes, black dress shirt — and the somber nature of the day's events, the mood in the room was not unlike that of a funeral.
"Things haven't turned out this season the way we wanted them to," Reesing said. "We had high expectations coming in, and we came up short. It's difficult, especially for us seniors, because we know what kind of talent we have and what we're capable of. And to not live up to what we expected and hoped for this season has been rough."
More like this story on KUsports.com