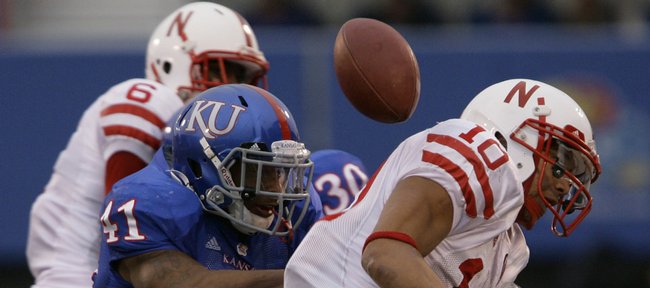 KU vs. NU
Videos
Kansas vs. Nebraska: then and now
Videos from KU's games against Nebraska from the past several seasons.
Reader poll
Colorado

35%

888 votes

Oklahoma

1%

46 votes

Texas Tech

4%

120 votes

Kansas State

31%

791 votes

Nebraska

21%

552 votes

Undecided

5%

128 votes
2525 total votes.
Reader poll
Todd Reesing

30%

35 votes

Jake Sharp

6%

7 votes

Kerry Meier

45%

52 votes

Darrell Stuckey

18%

21 votes
115 total votes.
For a Kansas University offensive line that seemingly had regressed in recent weeks, the prospect of going against Nebraska defensive tackle and All-American candidate Ndamukong Suh didn't seem like an overly promising venture.
Unlike last season, however, when the 6-foot-4, 300-pound senior finished with 12 tackles (four for loss), 2.5 sacks and caught a two-yard touchdown pass against the Jayhawks, Suh had a rather quiet performance during the Huskers' 31-17 victory, finishing with just three tackles and two quarterback hurries as Nebraska's highly touted defensive front failed to cause much noticeable mayhem.
"I think (we) did a pretty good job," KU coach Mark Mangino said of the team's performance against Suh. "He wasn't as big a factor as he's been in other games. He's an awfully good player. We just tried to neutralize him a little bit and tried not to let him dominate the line of scrimmage."
Kansas' offensive lineman Trevor Marrongelli, a red-shirt freshman who made his first career start last week against Kansas State, was expected to earn the unenviable task of lining up directly across from Suh, but was relieved by sophomore Jeff Spikes, who made his first start of the season at right guard.
Mangino said he couldn't give a full evaluation of Spikes' play at the position —it was the first time he'd started at right guard in his career — until after he'd reviewed game film, but he seemed pleased enough with the performance of the line as a whole.

Kansas quarterback Todd Reesing was sacked just once and looked to have plenty of time to throw against a Nebraska front that has been touted in recent weeks as one of the nation's best.

"Everyone was talking their D-line up all week, (saying) our guys are undersized and overmatched," Reesing said. "And our guys played their hearts out, man."
If there was a negative, however, it was the team's inability to develop a consistent run game.
The Jayhawks failed to crack 100 yards on the ground for the fifth straight game, finishing with 99 yards on 29 carries.
Still, the consensus was that the offensive line is making progress.
"If there's ever a problem, they're going to switch things up until they find a solution to it," Opurum said of the personnel changes. "They did a nice job for the most part in protection, and in the run game things looked a bit better. But each week they need to get better and keep working on the things they need to do."
Briscoe mum about future: As of now, the NFL Draft is not something Kansas junior wide receiver Dezmon Briscoe is particularly interested in discussing.
"A bunch of players came up to me and asked me, but this is something I'm not even thinking about," said Briscoe, who finished with four catches for 77 yards and a touchdown. "I'm focusing on Texas right now."
Bits and pieces: Saturday's sell-out crowd of 51,525 gave Kansas an average attendance of 50,581 this season, second in Kansas history only to last season's average of 50,907. … Briscoe took over sole possession of eighth place in the Big 12 career receiving list Saturday, passing three players.