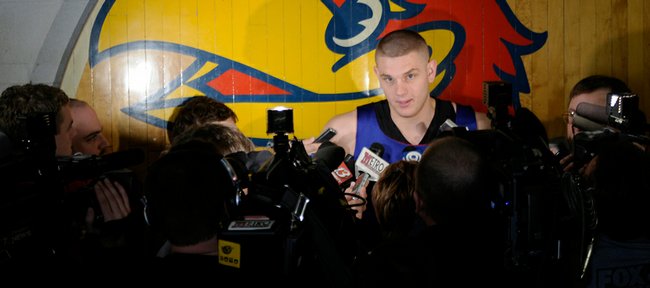 Feature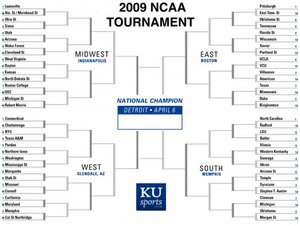 Get yer bracket on! Browse all brackets, check out out KUsports.com staff brackets, and check to see how your bracket's holding up after each match up is complete.
KU vs. Michigan State
Aldrich close to record
Cole Aldrich needs eight blocks to pass Greg Ostertag as KU's single-season block leader.
"I'm just going to go out and play the same game I played all year, try to block shots, rebound, get opportunities to score," said Aldrich, who has 90 blocks.
More on Collins, NBA
Sherron Collins tells ESPN's Scott Powers he'll trust KU coach Bill Self to make the call on whether he enters the 2009 NBA Draft.
"I think he has my best interest in mind," Collins said of Self. "If I need to come back, I will. We'll have another great team. If he tells me I need to go, I need to go. I've been with him for three years. I trust him because of the way he cares about you off court."
Self said he'll investigate for Collins, who said last week that financial concerns will not push him into the NBA Draft. Collins said his son is well taken care of by his son's mother and other family members.
"I hope he trusts me, because I'll get accurate information," Self said. "It is my goal for him to make a living playing basketball in the United States. ... I think going into the year, he probably thought this would be his last year, but I think now he's thinking that if it is not right, I'll come back, get my degree and have a chance to do some great things with what could be a special team."
Today's travel plans
The Jayhawks will depart Allen Fieldhouse at 1:30 p.m., fly out of Topeka's Forbes Field at 2:30 p.m., and arrive at the Downtown Indianapolis Omni Severin Hotel at 5:30 p.m. KU will hold a shootaround from 1 p.m. to 1:50 p.m. on Thursday at Lucas Oil Stadium.
Self's daughter picks KU
KU coach Self is pleased to report his daughter, Lauren, has chosen to attend KU next year. She's currently a senior at Free State High.
'Big-boyed'
Self remembers KU's 13-point loss to Michigan State well.
"I told our guys in the locker room, 'We got 'big-boyed' tonight.' They beat us by 11 on the boards. We didn't handle the situation well."
Stephenson favoring KU?
The recruiting world believes Lance Stephenson is KU bound. Stephenson, a 6-5 senior guard from Lincoln High in Brooklyn, N.Y., has said he'll announce for either KU, St. John's or Maryland on March 31 at the McDonald's All-America game.
"Look for him to pick the Jayhawks," says Adam Zagoria of zagsblog.net.
More like this story on KUsports.com