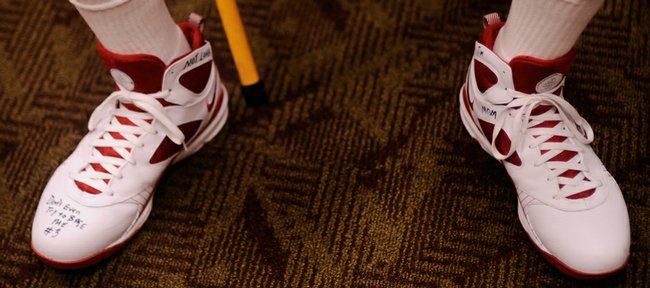 Mickey Perry says his journey to today began on April 7, 2008. He was at coach Brian Gregory's house with his Dayton teammates. And he couldn't take his eyes off Kansas' Sherron Collins.
The two had played in the same AAU organization — the Illinois Warriors — and faced off in Chicago high school games. They had met in open gyms at Perry's school (Proviso East), with both going up against college standouts like Dee Brown and Shannon Brown. They both had earned all-state honors their senior years in Illinois.
But Collins was the one dribbling out the final seconds of the national championship. And Mickey was the one watching another former AAU teammate get his chance in the NCAA Tournament.
"It was almost tears in my eyes," Perry said, "because I had never really had an opportunity to play in a significant game like that."
Perry left the coach's house and went to the only place that felt right.
He drove himself to the basketball gym.
"Just seeing those guys in that national championship, in that spotlight. It just didn't happen for no reason," Perry said. "I know there was some work behind that to get to that level."
So Perry put up some shots, then concentrated on ball-handling drills his coaches had asked him to do, then put up more shots, all at a frenetic pace.
The late-night workout went for an hour and a half.
"I was just really trying to do whatever it took," Perry said, "to show I was ready when my opportunity came."
Finally, Perry's opportunity is here.
Not only did the Flyers make the tournament with a 26-7 regular-season record, they also upset sixth-seeded West Virginia on Friday for their first NCAA Tournament victory in 19 years.
Now, Dayton will take on third-seeded Kansas at 1:30 p.m. today with a berth to the Sweet 16 on the line. And Perry, a 6-foot-2 guard, will get the chance to match up with the player who motivated him to work a little harder.
"I was telling my mom, 'You never would have thought how the bracket works out and how God does things that we'll be playing each other,'" Perry said. "I know Sherron, he won't be nervous, but I'm sure he'll be anxious and things like that to get after me."
Perry, who is one of the first Dayton players off the bench, averages 4.4 points and 14.4 minutes per game. Both numbers are up from a year ago.
The fourth-year junior also is looking forward to playing Mario Little — a player he was familiar with from both the Illinois Warriors program and also high school.
The two shook hands and greeted each other Friday when they crossed paths in a tunnel at the Metrodome. It was the first time they had seen each other since high school.
Little said he remembered Perry as a great scorer, even against Chicago-area natives such as Julian Wright.
"I always felt that he held his own against them," Little said. "He made sure he came in and hit big shots."
Added Collins on Perry: "He's a really good shooter. He's got an inside-outside game. He'll be a tough guy to guard."
Perry couldn't help but be excited about the possibility of going up against Collins: the one he envied just 11 months ago.
"I'm going to be ready," Perry said. "I've been working a long time, and I'm going to expect nothing but his best.
"That's the true sign of respect is to bring your best, and I'm going to try to do my best."
More like this story on KUsports.com