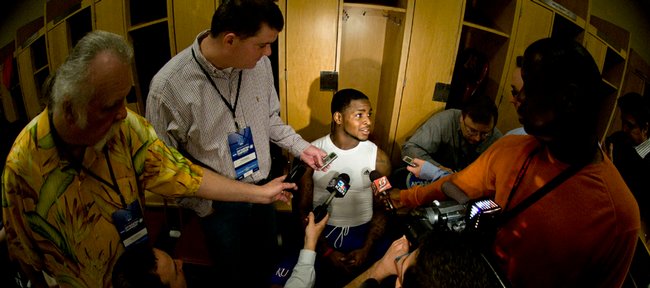 Minneapolis — Sherron Collins, who is well on his way to becoming the most accomplished basketball alumnus of Chicago's Crane Tech High School, learned the tricks of the point-guard trade from his idol, fellow Crane graduate Will Bynum.
"One of his favorite sayings is, 'You've got to be a dog. Always be hungry.' That's my motto. I always say, 'Let's eat,''' Collins, Kansas University's 5-foot-11, 200-pound junior pit bull, said Saturday.
He was speaking a day after ravaging North Dakota State for 32 points and eight assists against two turnovers.
That tasty 38-minute effort — as well as the 23-point, 13-rebound outing of center Cole Aldrich — propelled the Jayhawks to an 84-74 victory and berth in today's 1:30 p.m., second-round NCAA Midwest Regional battle against Dayton.
"I can have an OK night, not an off night," Collins said, asked if he had to have a "great game" for the Jayhawks to advance to the Sweet 16 in Indianapolis.
"My teammates are good enough to carry me when things aren't going well. We have a lot of players that can step up. But I have to play well most of the time."
Collins, who today faces a tough matchup in junior London Warren (nine assists, one turnover in Dayton's 68-60 first-round victory over West Virginia), hoisted a career-high 26 shots on Friday, making 12.
It marked the first time all season KU won a game in which Collins had more than 20 shot attempts.
The Jayhawks lost previous 20-shot outings against Syracuse, UMass and Baylor.
"I don't think it was too many. I think I was in the flow in the first half," said Collins, who scored seven of KU's first 12 points and 13 of 18 in helping the Jayhawks nab an 18-17 lead. "Coach (Bill) Self said all my shots were good, except three or four. There will be games I shoot that many shots."
Self had no problem with Collins taking 26 shots on a day North Dakota State's Ben Woodside exploded for 37 points off 13-of-23 shooting.
"If Sherron didn't shoot the ball early, we weren't going to score," Self said. "It (first NCAA game) was hard on our newcomers.
"I think the right number for him yesterday would have been 22. He took some shots where I think he kind of bailed them out by not driving the ball. He also got our guys shots, especially in late-game situations."
Collins' teammates bristled when asked about criticism of Collins from fans on the Internet who say the Jayhawks won't go far if he continues to take 25 or more shots per game.
"I'd say to those people, 'He's the leader of our team. We need him to make shots,''' freshman Markieff Morris said. "We needed most all of those 26 shots."
Noted Morris' brother, Marcus: "They weren't bad shots. They were tough shots. We needed him, and he delivered. As many shots as he needs to take. If we are to win, I have no problem with it."
Junior Mario Little also stood up for his fellow Chicago native, who takes a team-leading 18.7-point scoring average into today's game.
"That's people talking who probably never touched a basketball their whole life," Little said of critics counting Collins' attempts. "He doesn't care about what they say. We don't, either. Sherron does things no other point guards can do. I'll give him a 9.5 or a 10 (out of 10) every time you ask me to rate him.
"He's a great leader. He's learned to pull everybody in, not single anybody out. He tells everybody that if we are going to win, it'll take all of us,'' Little added.
Collins wasn't as positive a force early in the season when he was learning about leading while on the job.
"One time he yelled at me while we were on the court. It was the middle of the Siena game at Allen Fieldhouse," Marcus Morris said. "I came to him at the timeout and said, 'You can do that in the locker room. Don't do it in front of everybody. Everybody can see you do that.'
"Now ... I can't remember the last time he yelled at me. He might do it at practice, but most of the time we're laughing."
Freshman guard Tyshawn Taylor, who said he considers Collins a "brother figure," also remembers being the recipient of stern lectures from the emotional floor general.
"I took it as him picking on me," Taylor said. "I took it as nitpicking. Now I understand it was constructive criticism. I took it wrong."
Taylor remembers when he saw the error of his own ways.
"When we started winning," Taylor said. "I thought to myself, 'Sherron knows what he's talking about. He's been here. He knows.'
"He's the leader of our team, hands down. We all listen to him."
Collins said it was a conscious decision for him to back off the rookies.
"I was frustrated earlier in the season when they made mistakes," Collins said. "Tyshawn, Marcus Morris ... coach expected so much from them. He was on them real bad so I backed off. I didn't want to be on them, too. I learned to say things in a polite way and still let them know when they are messing up."
As far as to how long Collins will continue to lead the team ... he's not sure.
It's possible he'll leave school after three years.
He'd like to play in the NBA some day, like his buddy, Bynum of the Detroit Pistons.
"I don't even think about that. I've not thought about leaving. Right now, I'm staying," Collins said. "There's no pressure (to leave). Everything is fine. I've got a kid, but he has a terrific mother. We've got a family where we all help out a lot. I'm not in any rush."
Collins, who ranks No. 27 on KU's all-time scoring list (1,285 points), could finish in the top five if he remains a final year.
Depending on how the future goes, the man with one national title could wind up with his jersey hanging in the Allen Fieldhouse rafters.
"Absolutely," KU coach Self said. "Both he and Cole ... those two potentially could have their jerseys up there."
"Hopefully that will happen to me one day," Collins said. "That would be the biggest honor. Right now, I don't look at records. I didn't even know I was over 1,000 points. There's no time to pay attention to things like that."
Right now, heading into today's game, he's on top of the college basketball world.
"He's always happy. He always wants to rap, always wants to dance," Markieff Morris said.
"I'm confident. It's been fun leading these young guys, a lot of fun. We don't want it to stop," Collins stated.
More like this story on KUsports.com