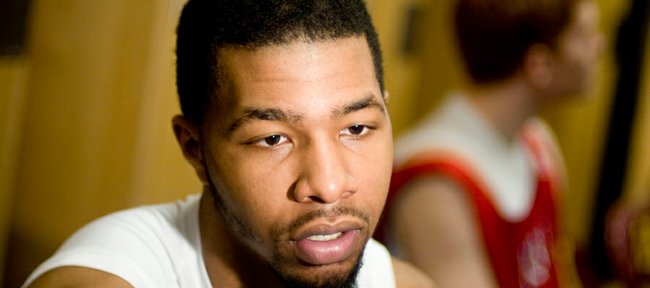 Minneapolis — Flyers resemble familiar foes
Dayton's basketball team is quick and athletic.
The Flyers of the Atlantic 10 Conference, who play pressure man-to-man defense, resemble three teams the Jayhawks have met this season: Tennessee, Missouri and Michigan State.
"It's not our first time going against a pressure team. Tennessee is that way," KU coach Bill Self said. "They are a little different than anybody in our league. Even Missouri is more trapping zone stuff. They come at you man-to-man."
Dayton coach Brian Gregory worked for Tom Izzo at MSU.
"They run some of the same sets," Self said. "Their defense to offense (transition) is fabulous. They have the same philosophy as Michigan State," Self added of a team that beat the Jayhawks, 75-62, in KU's final nonconference game in East Lansing, Mich.
"Defensive transition, rebounding, being able to guard, be sound handling pressure will all be important," Self added.
The Wright stuff
Dayton is led by 6-foot-8, 226-pound sophomore forward Chris Wright, who exploded for 27 points in Friday's 68-60 first-round victory over West Virginia.
"He's quicker on his feet than normal big guys," said KU freshman Marcus Morris, who figures to open defensively on Wright. "I think I'm going to have to slide a little more, but he's very aggressive. So the technique I just have to use is just be aggressive with him and don't let him overpower me going to the basket."
Here's coach Self's take on Wright, who averages 13.4 points a game off 48.9 percent shooting:
"He's so very active. Puts a lot of pressure on the defense. He's one of those guys that can play so aggressive that there's always going to be contact. If you're not in the proper defensive positioning, you can pick up a lot of fouls.
"But on the flip side, if you are, maybe you can get a cheap one or two on him as well. But he is a fabulous player. And probably puts as much pressure on you defensively as anybody that we played this year from either posting it, rebounding it, or catching it and driving it. I mean, he's a guy that can really drive the ball."
No relation
KU junior Mario Little is not related to Dayton's Charles Little.
"I'm not going to go up and ask him about his name unless I see him at a family reunion," Mario Little quipped.
Aldrich attends alma mater's prep game
KU sophomore Cole Aldrich watched his high school basketball team win a state sectional final basketball game on Friday night.
"I just went for a few minutes. It was fun," Aldrich said of watching Bloomington Jefferson High advance to state.
Taylor pulls prank on teammates
Kansas freshman Tyshawn Taylor put on a show for the media on Saturday in a Metrodome hallway. He opened several plastic containers that held the lunch of his teammates. He grabbed a handful of Oreo cookies from each container and placed them in his pockets, certain to tease his teammates later about his thefts.
Self on KU as favorite in today's matchup:
"The villain, that's kind of strong, isn't it?" Self asked a questioner. "I think that we like the role that we have because usually when Kansas plays and it's somebody else's building, it is usually a pretty big game. But it's that way with a lot of schools across America.
"And these guys don't feel like they are defending the national championship. We never talked about it with our guys because there's only really one guy (Sherron Collins) that played ample minutes that really played a big part of us winning it last year. Cole would be the second, and he averaged 2.8 points per game. Nobody else contributed on the court as far as the games go.
"So these are all new guys. We're not trying to defend anything; we're trying to go take what we want as opposed to defending."
More like this story on KUsports.com