Feature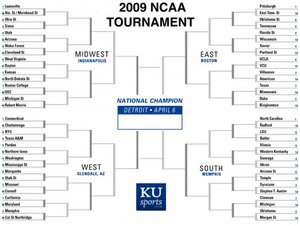 Get yer bracket on! Browse all brackets, check out out KUsports.com staff brackets, and check to see how your bracket's holding up after each match up is complete.
KU vs. Michigan State
Few things make a sports columnist feel cheesier than writing nice words about the local coach, especially one as celebrated as Bill Self. So when it's unavoidable to do so, the easy route involves stepping out of the way to let the numbers do the talking.
Fasten your seat belt and digest this astonishing figure: When given an opportunity to avenge a loss from earlier in the season, Self has a 7-1 record in six years at Kansas.
"The reason a lot of times the record is good in rematch games is the return game is at home," Self said. "In our guys' mindset we know we didn't take the same team we have now to the floor in East Lansing. That was not the Big 12 champion. It was a good team, but not one that has played to the level we've played at. They're a better team, too. Here's a team that goes 15-3 in the Big Ten."
Sure, some of his 7-1 record has to do with losing to a school on its homecourt and then getting to play either in Allen Fieldhouse or at a neutral site. But that's not always the case. Self's team lost to Kansas State, 59-55, Jan. 14, 2006, in Lawrence. Kansas won the rematch March 4 in Manhattan, 66-52.
There's more to Self's success in rematches than the three most important factors in pitching and in real estate: location, location, location.
What the 7-1 record says about Self is that he's a terrific counter-puncher. He knows how to tweak tactically and how to challenge players to do better the second time than they did the first time.
KU's three prominent freshmen — Tyshawn Taylor, Marcus and Markieff Morris — combined for nine points in the first game against Michigan State and for five points in the tournament victory against Dayton. They'll need to do better than that in Indianapolis and here's guessing they will in the wake of Self calling each one into his office for a talk/challenge.
The Sweet 16 is packed with great counter-punchers. For example, Michigan State coach Tom Izzo, during the time Self has been at Kansas, is 11-2 when given a chance to avenge a loss from earlier in the season.
Seven of the 16 remaining coaches have won at least one national title: Duke's Mike Krzyzewski (3), UConn's Jim Calhoun (2), Syracuse's Jim Boeheim, Izzo, Louisville's Rick Pitino, Self and North Carolina's Roy Williams. Plus, John Calipari, the best active college basketball coach never to win a title, has his team in play for a return trip to the Final Four.
Here's hoping Krzyzewski's not offended at being mentioned on a list with a bunch of college basketball coaches. After all, as he told the world on that television commercial that used to play 50 times a day, "I don't look at myself as a basketball coach. I look at myself as a leader who happens to coach basketball."
You'd think a leader as great as Coach K could find better things to do with his time than coach basketball. You know, like maybe fix the economy.
Anyway, the fact Michigan State dominated Kansas in January shouldn't render Self's 7-1 revenge record meaningless. On Feb. 25, 2006, in Austin, Kansas lost to Texas, 80-55. Not quite three weeks later, Self's team avenged the loss with a 12-point victory.
KU ready to beat Michigan State? I think so.
More like this story on KUsports.com