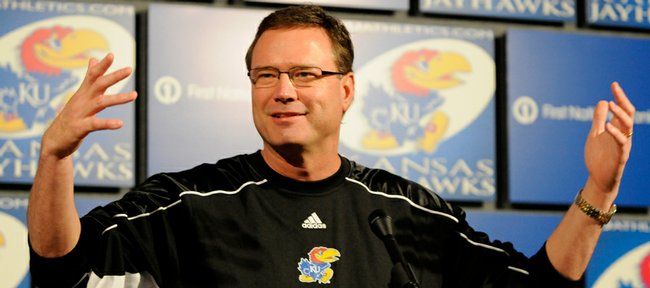 Feature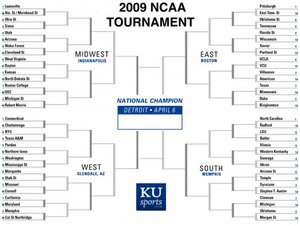 Get yer bracket on! Browse all brackets, check out out KUsports.com staff brackets, and check to see how your bracket's holding up after each match up is complete.
KU vs. Michigan State
Kansas University basketball coach Bill Self summoned three Jayhawks to his office on Monday afternoon.
His message to Tyshawn Taylor, Marcus Morris and Markieff Morris during one-on-one chit-chats?
That they ought to be loose, carefree and primed to produce top-quality minutes in Friday's Sweet 16 battle against Michigan State (approximately 8:37 p.m., Lucas Oil Stadium, Indianapolis).
"I told them, 'No one can take away the fact we won the league. Nobody can take away the fact we are in the Sweet 16,''' Self said, adding, "'If they can't take that away from you, there's no reason to try to hold onto it. All you can do is add to it. You've got to let it go.'
"We need the twins and Tyshawn to be aggressive at all times."
Self sensed some nervousness in his newcomers during last weekend's victories over North Dakota State and Dayton in Minneapolis.
He's seeking some help for Sherron Collins and Cole Aldrich, who had 38 points against Dayton. KU's other three starters scored just three points total.
"I'm not asking them to do that much. I'm asking them to be aggressive and guard, make sure we get a shot every possession," Self said. "When you worry about the intangibles, scoring happens.
"I asked Tyshawn, 'Were you worried about scoring against Oklahoma when you had 26 (points)?' He said, 'No I was worried about guarding so-and-so.' I said, 'Exactly right. If you focus on the right things, scoring happens naturally.'''
He's confident things will improve for the three, who combined for five points with seven turnovers against Dayton.
"They are not going to play bad. I've already decided ... they are not going to play bad," Self added with a laugh, referring to all of KU's first-year players.
Taylor said the meeting with Self has indeed fired him up heading into a week of practice for Michigan State.
"Coach told me I had a great season so far, but it's not over," Taylor said. "He said nobody can take my season away from me, that I've already proven myself a little bit.
"I can't really hurt myself. All I can do is make myself better and he told me that. A lot of the pressure is not on me. It's really on Cole and Sherron, so I should just hoop."
Aldrich and Collins, of course, are willing to shoulder the pressure.
"If we lose, they (observers) are not going to look at me and say, 'We lost because of Tyshawn,''' Taylor said. "It's bad to say, but they are going to look at Sherron and Cole first. They are our best players. They are going to take it when it's good. They are gonna take it when it's bad. I've just got to play.
"I want to help the team the best way I know how, by playing hard. That's what I'll do," Taylor said.
Marcus Morris was visiting with some of KU's assistant coaches on the Jayhawks' off day Monday when Self called for him.
"He was seeing where we are at, if our mind is right for this game, if we are prepared for what we are about to play in," Morris said of the KU rookies in the Sweet 16. "That was the major part, about us being aggressive. He said that's what we needed to be, not just in the game, but practice too."
Morris said KU's newcomers have huddled amongst themselves this postseason.
"We talk about it every night," Morris said. "Before the North Dakota State game we were talking about how different it felt. How the other media was and how everybody dreams for this time and now it's here. I think we're definitely more comfortable now. I would say I'm more hungry because we lost to Michigan State before (75-62 on Jan. 10 in East Lansing) and nobody expects us to beat them."
Kansas junior guard Sherron Collins is confident KU's supporting cast will come to play.
"The young fellas, and Brady and Tyrel (Reed) ... we'll get them the ball when they are open and they'll knock down shots like they always do," Collins said. "We'll be ready to play."
More like this story on KUsports.com