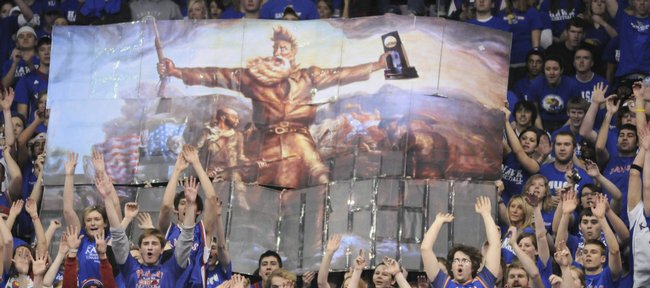 The secret to the remarkable success of the Kansas University basketball program under coach Bill Self isn't much of a secret at all. The players improve so much during the course of a season that it stands to reason the team would, too.
But improve this much, this soon? Nobody had any right to expect that. Nobody had any right to expect that a team that didn't return a starter from a year ago and relies so heavily on three freshmen would be able to blow out the nation's No. 11-ranked team, Missouri, by a 90-65 score in a game that felt like an even bigger mismatch, to the delight of the loud Allen Fieldhouse crowd.
The freshmen didn't look like freshmen on this day. Markieff and Marcus Morris, lazy and lazier when the curtain opened on their college careers, now bust it up and down the court, consistently hit the boards hard and defend with passion. Tyshawn Taylor, who used to send out a press release to the opposing defenses to let them know when to set up under the hoop to take the charge, now more often picks his spots wisely and knows how to contort his body in a way to avoid knocking over a defender when finishing.
Sherron Collins, not ready to trust teammates early in the year, scored 25 points, but needed only 14 field-goal attempts to do so. He ran the fast break masterfully.
The biggest symbol of this team in that he has been its most rapidly improving player from Day 1 is the team's biggest player. The Cole Aldrich who threw down five dunks Sunday bore no resemblance to the high school kid who looked in over his head during the AAU scrimmage at Allen Fieldhouse in the summer before his senior year. The Aldrich who tallied 19 points and 14 rebounds looked nothing like the freshman who watched the aerial act of bigger, stronger, faster men dunking over him during Late Night in the Phog. (Aldrich, by the way, never has lost a game in Allen Fieldhouse).
All that improvement makes Self a worthy pick for National Coach of the Year honors.
The team that ran Missouri into a state of exhaustion resembled the one that lost to UMass in November about as much as the expectations for this team then resemble those now. They're soaring again.
"I hope so," Self said, sounding as aggressive as his team had just played. "To me, you have to put yourself under pressure situations because the NCAA Tournament has a different feel to it from a pressure standpoint than a regular-season game. I told our guys that, so this is good that we're playing games under pressure that we need to win to win the league and that kind of stuff because if you remember back, when we tied for the league and won the tournament, we didn't crack the Top 25 until right at the very, very end."
That was during the 2005-2006 season that ended with a first-round loss to Bradley.
"I think it's better that we're at least in there, and people talk a little bit so now they feel a different type of pressure," Self said. "I think pressure's good, and we need to feel as much as we can, not in a negative way, going into the tournament because those are pressure-packed games."
The Jayhawks are on the verge of becoming a trendy Final Four pick, pressure that won't cause them to flinch if they follow their leader, which they have done so well so far.
More like this story on KUsports.com