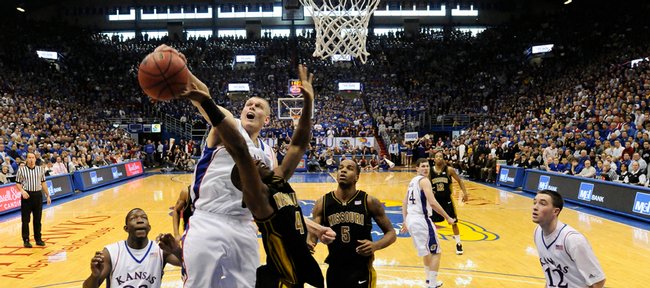 Tough taskmasker Bill Self turned into a softie Sunday afternoon in discussing his 2008-09 Kansas University basketball team.
"I'm falling in love with this team," KU's sixth-year coach said after his Jayhawks pounded Missouri, 90-65, in Allen Fieldhouse.
"They try hard, and they are getting more and more aggressive all the time."
The Jayhawks, who lost all five starters off last year's national-title squad, improved to 24-5 overall and 13-1 in the Big 12 heading into Wednesday's 8:30 p.m. contest at Texas Tech.
A victory over the Red Raiders would assure the Jayhawks at least a tie for their fifth straight conference title and give KU a better conference mark than last year's NCAA champs, who went 13-3 in the league.
"I'm really proud of the guys. It's just one game, but they did respond like champs today," Self said.
The Jayhawks, who blew a 14-point lead to the same Tigers (24-5, 11-3) on Feb. 9 in Columbia, Mo., stormed to a 26-point halftime advantage (45-19) and never saw that lead dip below 18 points.
The first half was a thing of beauty from a KU standpoint. An 18-1 run in which six players scored (Sherron Collins had five points and Markieff Morris four) propelled the Jayhawks into a 21-5 lead just 7 1/2 minutes in.
By halftime, eight Jayhawks had scored, compared to three Tigers. KU hit 18 of 32 shots — five of seven threes — to the Tigers' eight of 39 (0-for-9 threes), thoroughly shredded MU's press in the process.
"That's the best half of basketball in 11 months here, since the North Carolina game last year," Self said of a Final Four semifinal victory in which KU led, 44-27, at halftime. "That wasn't even the same team that played in Columbia. Over there, we were trying not to lose. Today we were in attack mode the whole time."
The Jayhawks were intent on making up for their only loss of the Big 12 season on a day the crowd was juiced for revenge and also excited for the jersey retirement ceremony of former Jayhawk Kirk Hinrich.
"I think we had a tick in our ear after what happened in Columbia," Collins said after scoring 25 points off 8-of-14 shooting (four for six threes). "There's special satisfaction in this. It shows everybody we are better than what we showed in Columbia.
"I think actually they thought they were going to come in and beat us again. We were able to show this is the team we really are. We wanted to blow them out. Kansas-Missouri is a rivalry. A big rivalry. We don't like losing to Mizzou, especially twice, especially at Allen Fieldhouse."
Collins said he entered the game convinced KU would win.
"But who knew what the score would be like this?" he said.
Uh, one of his teammates did.
"I thought the score was going to be like this the whole time," said freshman Tyshawn Taylor, who effectively attacked MU's press to the tune of 15 points with six assists against two turnovers. "I felt we were better than before, to be honest with you."
Fired up for the big game, Taylor received some inspiration from his little sister in a Saturday night phone call from New Jersey.
"She said, 'Just go out and win.' I said, 'All right, I'll go win for you,''' Taylor said with a smile.
"I couldn't wait to play this game. The key was making shots and attacking their pressure. Once we beat their first line of pressure, there was nothing they could do."
Center Cole Aldrich was the third Jayhawk to score in double figures. He had 19 points off 8-of-13 shooting to go with his 14 rebounds. He rammed home a pair of alley oops late off feeds from Taylor.
"Coach has been telling me to do that a long time," Taylor said of adding the lob to his repertoire. "I just threw it up there. He went up and got it."
"That was fun," Aldrich said. "Tyshawn got into the paint and got the ball to me just right. I don't know how high I got, but that was fun."
The whole day was fun for the Jayhawks, who were too much for the Tigers
MU was led by Leo Lyons and DeMarre Carroll, who had 20 and 16 points, respectively.
"Everybody played great. Tyshawn was terrific, Cole was terrific. He does deliver," Self said, adding, "and the bench was terrific. But Sherron (Collins) has been really good as of late. He really put us on his back and got us off to a great start again.
"It was a good day for us and sets up a great week. Now we've got to play the best road game we've played all year. That will set up a big finale no matter what here next Saturday against Texas. We've had some season finales in this building against Texas before, and they've been fabulous."
Tipoff for that finale is 3 p.m.