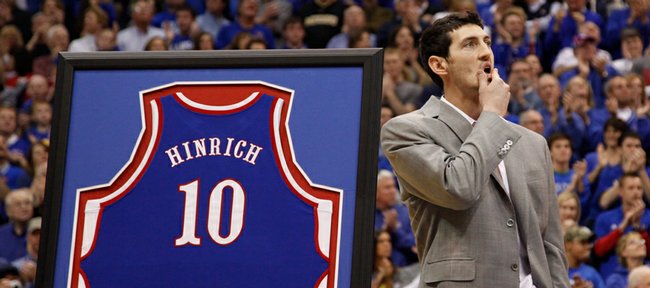 Kirk Hinrich stood in the fabled northwest tunnel of Allen Fieldhouse at halftime of Sunday's Kansas University-Missouri game. He craned his neck to watch a highlight video of his storied KU basketball career playing on the center scoreboard.
Highlight after highlight on the big screen was enough to bring a 28-year-old man to tears.
"Watching the video brought back so many good memories. It was really emotional," said the Chicago Bulls point guard/shooting guard, who at the conclusion of the video walked onto the court to a thunderous standing ovation from 16,300 fans who remained in their seats for his jersey-retirement ceremony.
"It was a great day, better than I expected. It was electric. This is the greatest honor I can have," added Hinrich, who watched in amazement as his jersey No. 10 was unfurled high in the south rafters.
His banner hangs next to those of buddies Nick Collison and Drew Gooden, his teammates at KU.
"I am truly honored to be here. It's humbling. Thank you all very much," Hinrich told the fans. He thanked former KU coach Roy Williams as well as family members, friends and the fans.
"When I came here today, I was thinking about what I would say about this place and how special it is for me to be a Jayhawk and still be a Jayhawk. There's nothing like it. In my mind, this is the greatest basketball venue in the world," Hinrich said.
Hinrich addressed his KU career highlights.
"On the court, my best memories are going 16-0 in the league (2001-02) and the Final Four appearances (2002, 2003). The best memories are off the court, the relationship I had with my teammates and coaches. Kansas basketball is like a family. It's what makes it special," he said.
Hinrich, who is ninth all-time on the KU scoring charts and fourth in assists, visited the Jayhawk locker room after the game.
"Just casual stuff," he said of what he discussed with the current team members. "I've been following them all year. They've been playing great. A few of them I know. A few I don't know as well. (I said) 'Just keep it going.' I just went back there to say hello."
Former players galore
Other former KU players in the house included Nick Collison, Eric Chenowith and Scot Pollard, as well as former KU assistant Neil Dougherty.
"That's a really good team (that sat) behind the bench," coach Bill Self said. "It was great to have those guys back because they love this place.
"It was a great day for us having a crowd like that, playing well, getting a number of former players back, and Kirk's jersey in the rafters made it a pretty special day."
Self on the loud crowd
Self praised the fans packing the fieldhouse.
"The atmosphere was fabulous," he said. "I felt coming in the game this would be as good as (some big games in past like Georgia Tech in 2005) just because they beat us the first time and stakes were high. More important than anything, it's Missouri. The crowd didn't disappoint at all."
Recruiting
Bradley Beal, a 6-foot-3 sophomore guard from Chaminade High in St. Louis, attended and sat behind the Kansas bench.
Stats, facts
KU has won 10 in a row at home versus MU. ... KU has won six of seven and 10 of 13 versus the Tigers. ...
More like this story on KUsports.com