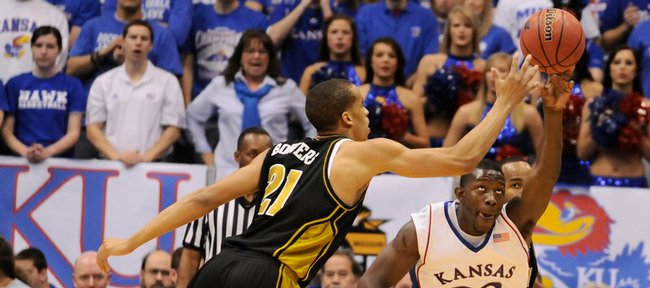 When Mike Anderson took over as coach of the Missouri University men's basketball team three years ago, he brought with him a style of play known affectionately as "40 minutes of hell."
It is a system built on constant motion, a controlled chaos, the objective of which is to apply constant pressure, push the pace at all times and attempt to translate that into as many easy baskets as possible.
And while his team has excelled in this style — sprinting to its best season in years and making life tough for opponents in the process — the Tigers on Sunday suffered a sobering reversal of roles against rival Kansas University.
In short, Missouri got out-Missouried.
"They were pushing the ball right back down our throats," MU senior forward Leo Lyons said. "That's normally what we want to do to teams. And they did it to us."
Missouri was outscored, 18-6, in fast-break points and 18-12 in points-off-turnovers and gave up more points than it had all season to fall, 90-65, to the Jayhawks and all but end its chances for a Big 12 regular-season title.
In a dominant and fast-paced first half, Kansas capitalized on countless fast-break opportunities — many of which stemmed from long rebounds after missed Tigers field goals — and used an aggressive offensive approach to build a quick double-digit lead.
Missouri's vaunted "40 minutes of hell" didn't prove all that hellish in the confines of Allen Fieldhouse.
The Tigers struggled in other areas, too, of course. There was the dismal 3-of-17 performance from three-point range; the full-court press that proved far less effective than it did in the teams' previous meeting; the bench that, after providing as many as 62 points in a game this season, was held to six Sunday.
"Some days the bench is going to have it," Missouri forward DeMarre Carroll said. "Some days it's not."
In assessing how his team — the conference's scoring leader — was held to 19 first-half points on just 8-of-39 shooting, Anderson cited a tentativeness about his team early on that the Tigers never quite managed to shake.
"There's not many games this year," the coach said, "where we came out and got in a hole that deep."
And while most Kansas fans, surely, were poised for at least a marginal second-half letdown — given Missouri's come-from-behind victory in Columbia on Feb. 9 and Kansas' propensity to let large first-half leads slip away late — it never really came.
Jayhawks center Cole Aldrich scored 13 of his 19 points in the second 20 minutes, Kansas didn't shift much from its first-half game plan, and the Tigers left the fieldhouse with their most lopsided loss of the season.
Following the game, Missouri players seemed unsure of how to process the loss — Murphy's Law was referenced on more than one occasion — and many wrote it off as one of those things: a perfect storm of ineptitude that must be accepted, learned from and then promptly put behind them.
"I mean, up until the last second, we were missing dunks and lay-ups," Lyons said. "That shows you what kind of night it was for us."
More like this story on KUsports.com