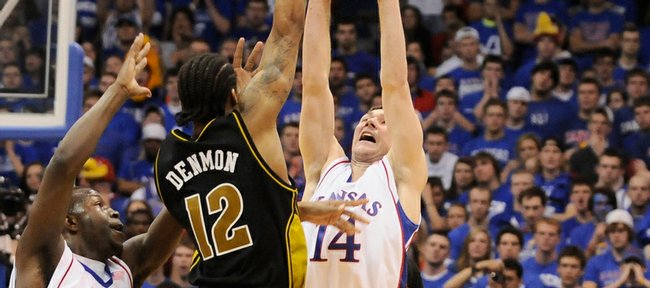 Tyrel Reed remembers the day in high school when he took a recruiting trip to Kansas State.
Just a few feet in front of him, mega-recruit Michael Beasley received a loud ovation from the Wildcat students while walking across the Bill Snyder Family Stadium turf.
Reed, meanwhile, was the recipient of a smattering of boos as he moved toward his seat.
For a while, the Burlington native couldn't figure out why he was getting such a cold reception.
"Then," Reed said, "finally it hit me."
Though he hadn't even thought about it beforehand, Reed went on the recruiting trip to Manhattan wearing a black Chicago Bulls jersey — one of former KU guard Kirk Hinrich.
"Yeah, I probably shouldn't have done that," Reed said with a smile, "but I'm here now, and I'm glad I did."
Reed's strong performance in Kansas University's 90-65 victory over Missouri on Sunday might have been even more special because it was in front one of his childhood heroes.
Hinrich, who sat behind KU's bench, had his jersey retired in a halftime ceremony Sunday.
"He's one of the all-time greats to ever play here at KU," Reed said. "I grew up watching him and loving to watch him play. He deserved everything he got, and I'm sure the fans were happy that he was here."
Reed showed Hinrich-like accuracy from beyond the arc during Sunday's game.
Reed, a sophomore, finished with nine points on 3-for-4 three-point shooting. He also added three assists and no turnovers in 18 minutes.
"I love big games like this," Reed said. "Playing Missouri, our rival, and being a Kansas kid, I grew up watching this game and loving it. It's just awesome to be a part of it now."
One of Reed's biggest threes came with 15:02 left in the second half.
The Tigers were on a 12-4 run — cutting KU's lead to 54-35 — and at that point, Allen Fieldhouse seemed to be lacking energy.
Reed drained a guarded three to get his team going again, and 40 seconds later, Sherron Collins followed with another trey to put the Jayhawks back up by 25.
The Jayhawks were 8-for-14 from three-point range against the Tigers on Sunday (57.1 percent). MU entered the game tops in the Big 12 in three-point-percentage defense (30.9 percent).
In the first matchup, KU made just two of 15 long-range tries against MU (13.3 percent), while Reed was 2-for-7 from deep.
"Last game we played them, we just missed shots we usually hit," Reed said. "Tonight, everyone was shooting the ball well. But give credit to Missouri. They are a great defensive team."
Reed, who has scrimmaged against Hinrich in the past, said his favorite memory of the former KU guard was when he sprained his ankle against Holy Cross in the 2002 NCAA Tournament. Hinrich, almost miraculously, played in the next game two days later against Stanford, putting in 15 points and eight assists in KU's 86-63 victory.
Reed said he was able to talk to Hinrich both before and after Sunday's game.
"He just said, 'Keep doing what you're doing,'" Reed said. "But he's in a league of his own."
More like this story on KUsports.com