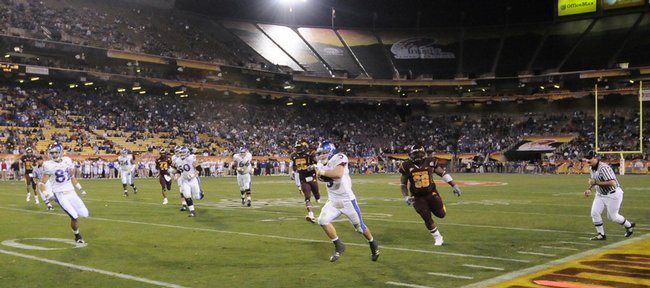 Tempe, Ariz. — In the aftermath of the Kansas University football team's historic 42-21 Insight Bowl victory over Minnesota — which long will be remembered as the day Jayhawks quarterback Todd Reesing and receiver Dezmon Briscoe essentially were unstoppable — the two players made their way to a news conference at Sun Devil Stadium, where dozens of reporters wanted to know how, exactly, they had managed to do what they had just done.
Reesing, ever the leader, stepped up and provided this detailed breakdown of the Jayhawks' offensive plan.
"Here's what happened," said Reesing, leaning forward in his seat for emphasis. "They call a play, and Briscoe gets open. If I can throw it to him, then it works out. And it seems to have worked out a whole lot of times."
Fourteen times, to be exact.
In the kind of performance that is becoming commonplace for the sophomore from Dallas, Briscoe shattered the Insight Bowl record for receptions with 14 and finished with 201 yards and three touchdowns to earn offensive-player-of-the-game honors.
From the opening play, a 60-yard touchdown reception from Reesing, Briscoe stood out for a Kansas offense that did the high-octane Big 12 Conference proud, piling up 446 yards of total offense and proving, at least for one night, that the conference is home to the nation's most potent offensive attacks.
Said a dejected Minnesota coach Tim Brewster: "(They're) as good an offensive football team as we've seen all year."
Kansas, which earned its 20th victory in the past two seasons and will go down in history as the first Jayhawks team to play in — and win — consecutive bowls, did a little bit of everything Wednesday, throwing for five touchdowns, rushing for another and pulling off a wide-receiver-pass play in which Kerry Meier, who was unseated by Reesing as the team's quarterback prior to the 2007 season, tossed his first touchdown of the '08 season.
"I will put it to you like this," KU coach Mark Mangino said, "no defensive coordinator is rubbing their hands together saying, 'I can't wait to play against (the Kansas) offense and Todd Reesing.' There is nobody doing that."
The defense wasn't too shabby, either. Despite facing an offensive set the Gophers hadn't run all season — in which quarterback Adam Weber took many snaps under center and the team appeared focused on power running — Kansas played one of its most complete games of the season.
After giving up 45 rushing yards in the first quarter, the Jayhawks, sparked by superb play from their senior linebacking corps, regrouped to hold Minnesota to just 80 for the game.
"We talked for a couple weeks here that we were going to get some surprises," said Mangino, who improved to 3-1 in bowl games as coach at Kansas. "We knew that. We just had to keep cool and calm and keep our poise and do what we had to do."
In case their own efforts weren't enough, however, the Jayhawks got plenty of help from the Gophers, who finished with seven penalties — many of the untimely variety.
In the first half alone, the Gophers were flagged for roughing the passer, a late hit and a controversial one-yard pass-interference penalty that kept a Kansas drive alive and paved the way for Reesing's six-yard touchdown pass to Briscoe three plays later.
The Gophers made a small run late, managing to shrink their deficit to 35-21 early in the fourth quarter after UM receiver Eric Decker caught a six-yard touchdown pass from Weber. But after Minnesota tight end Nick Tow-Arnett's hauled in what appeared to be a 36-yard reception to move UM into Kansas territory on the Gophers' next drive, the play was called back because of an illegal-formation penalty, and the team's momentum dwindled.
With the exception of the linebackers, the Jayhawks return nearly every impact player next season, including the three — Reesing, Briscoe and Meier — who had the biggest impact in Wednesday's victory.
And in the moments following the game, as players gathered on the field to accept their trophy, talk couldn't help but drift toward next season and the promise it holds.
"I'm not really thinking about that right now," Mangino said. "But I can say with a great deal of confidence that, (if we) stay healthy and stay on track, we have a chance to be a very good football team next year."
More like this story on KUsports.com