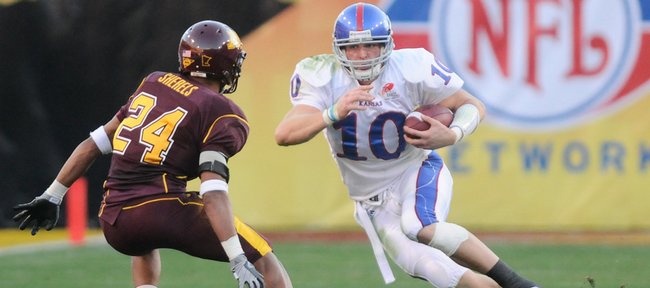 Tempe, Ariz. — Kerry Meier wasn't going to back down.
The Kansas University receiver said he refused to remain silent after a wide-receiver pass was added to the playbook a month ago.
"I knew it was going to work as soon as we put it in," Meier said after KU's 42-21 victory over Minnesota in the Insight Bowl. "It was great. I kept telling coach (Ed) Warinner, 'We've got to run that play. We've got to run that play.'
"I figured after we got that (fumble), it was a good time for it. Coach Warinner dialed it up."
Meier followed by executing it to perfection.
After receiving a backward pass in the flat, Meier lofted the ball deep to Dezmon Briscoe for a 32-yard touchdown in the third quarter.
Though Meier also caught a touchdown — a four-yard pass from Todd Reesing in the first quarter — he later admitted that he enjoyed his TD pass more.
"I guess it had been awhile since I (had) one of them," said Meier, who completed three of three passes this season for 74 yards and a touchdown. "I was just excited just to get the chance to throw one around."
It was the second time in Meier's career that he threw and caught a touchdown pass in the same game. He also accomplished the feat last year against Iowa State.
This season, though, Meier will be remembered more for his hands than his arm.
His record-breaking campaign continued against Minnesota, against whom he caught 10 passes for 113 yards.
With the effort, Meier broke KU's single-season mark for receptions (97). Briscoe's 92 catches this season is second on the list.
The previous record was 70 by Richard Estell in 1985.
Meier also became the fifth player in KU history to go over 1,000 receiving yards in a season, as he upped his total to 1,045 yards.
Reesing, Meier and Briscoe will be back next season.
"(Numbers) 5, 10 and 80 were just outstanding in the football game," Minnesota coach Tim Brewster said. "Sure, it's difficult to defend, but particularly when they've got good players like they've got. They've got an outstanding offensive football team — as good an offensive football team as we saw all year."
Meier already has moved up to fifth on the KU career receptions list with 124.
The junior said he and his teammates were already looking forward to next season.
"We're very hungry," Meier said. "We had a shot to get to the Big 12 (title game) this year, and we let it slip away.
"It was upsetting and stuff like that, but that might be the food that really keeps us hungry throughout the offseason — get to the Big 12 championship and see what that's all about."
More like this story on KUsports.com