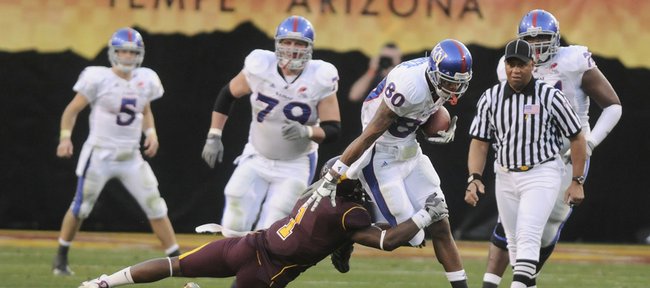 Tempe, Ariz. — It wasn't the Orange Bowl, but in dominating Minnesota 42-21 Wednesday night in the Insight Bowl played at Sun Devil Stadium, Kansas University's football team looked worthy of a BCS bowl game.
Scrambling junior quarterback Todd Reesing connected with Dezmon Briscoe for 14 receptions, three touchdowns and 201 yards, the first two figures Insight Bowl records. Junior quarterback-turned-receiver Kerry Meier caught a touchdown pass and threw one and picked up 113 receiving yards. Reesing completed 27 of 35 passes for 313 yards and four touchdowns.
After a shaky start against a Minnesota offense that completely changed its approach from the regular season, the KU defense proved just as effective as the offense in the game played in front of a largely pro-KU crowd that was smaller than the announced attendance of 49,103.
Senior linebackers James Holt, Mike Rivera and Joe Mortensen all went out in style for a defense that came up huge with a third-quarter goal line stand. The Golden Gophers had advanced to the 2-yard line on second down and couldn't cross the goal line on three running plays.
Rivera (14 tackles) and Mortensen (13) matched career-highs for tackles, and Holt contributed three sacks for 36 yards in losses. The outgoing linebackers improved their bowl record to 3-0.
"Our program is a work in progress, and every day it seems to get better and better," winning coach Mark Mangino said. "We're fortunate to have great players, great assistant coaches and most of all great support from these great fans here."
Kansas, which returns most of its key personnel on offense and with the exception of the linebacker position on defense, finished the season 8-5 and improved its overall record in bowl games to 6-6.
More like this story on KUsports.com