He's the most spiritual, the most consistent - and recently, one of the most successful.
Kansas University defensive tackle James McClinton has been going above and beyond on the football field this season, making what often is a supporting-role defensive-tackle position one where glorious plays can be made.
Glory that he sends straight up after every play, symbolized with the pointing of his two index fingers.
"I'd say it's going pretty good. Thank the Lord," McClinton said of his season. "I'm having a good season, a good coming-out year. I've got to keep fighting and giving the glory to Him. That's what it's about."
McClinton keeps his religion close by during games, often dropping to hands and knees and praying on the sidelines, or kneeling and saying a prayer each time before he leaves the field.
"He's always looking after us," linebacker Arist Wright said, "always praying for us."
Religion included, McClinton has emerged as a rock for a defense that, this year, really needs one. He'll line up at defensive tackle for his 22nd start in 23 games today, when Kansas takes on in-state rival Kansas State at 2:30 p.m. in Memorial Stadium.
While his role was a supporting one for a terrific Kansas defense a year ago, McClinton has emerged into a true performer in 2006. At a tackle position not prone to big statistics, McClinton has 40 tackles (nine for a loss), including four sacks. He has five quarterback hurries and two forced fumbles.
KU coach Mark Mangino was asked Monday about possible All-Big 12 Conference candidates on his team this season. The statistically proven ones were mentioned, like running back Jon Cornish (1,130 rushing yards) and cornerback Aqib Talib (nation's leader in passes defended).
But he also mentioned McClinton, who quietly is emerging as a star on KU's defensive front.
"James is having a very good season," Mangino said. "He's having some really good games. He's also making tackles for a loss and quarterback sacks.
"A lot of people say if your inside guys just move the pocket and push the pocket back, that's good enough. He's been getting pressures himself on the quarterback. He's played very well."
McClinton was recruited heavily by Kansas, Houston, Iowa and SMU coming out of Lakeview Centennial High in Garland, Texas. At 6-foot-1 and 285 pounds, McClinton possesses quickness that a 6-3 or 6-4 tackle might not have.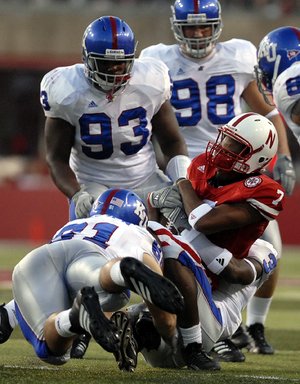 Center David Ochoa called him "unblockable" last season, at a time when McClinton says he still was getting adjusted to being an every-down lineman.
"I was thrown in the fire last year. I was just learning," McClinton said. "Now I know what to look for, what to study, what to pick up on film."
Coupled with the graduation of every other starter on last year's defensive front seven - Charlton Keith, Tim Allen, Jermial Ashley, Nick Reid, Kevin Kane and Banks Floodman - McClinton's emergence came at just the right time. Being in the middle of the line and staring down the quarterback makes his job crucial against the balanced offenses KU often faces.
"Good penetration in the middle of the line," Mangino said, "creates headaches in both the run and pass game."
Mangino admits that a lot is asked of defensive tackles in KU's defensive schemes, both in stopping the run and rushing the passer.
"Sometimes they're asked to occupy people to keep linebackers free," Mangino said. "Other times it's to get penetration and disrupt the run games. Other times you're looking to put them on a stunt to disrupt the run or pass game. You can utilize those guys in a lot of different ways."
KU vs. K-State
Kansas has seen McClinton's efforts pay off particularly against the run. Last year, KU ranked third nationally in run defense, in part because of McClinton's impact. This season, Kansas remains strong against the run, allowing just 105.3 yards per game.
"A defensive tackle has got to be an anchor part up front," defensive coordinator Bill Young said. "He's done phenomenal. He's playing as good or better than any D-tackle we've had here."
On film, it's enough to get opposing coaches to take notice. K-State coach Ron Prince echoed Mangino's thoughts by calling McClinton an "all-conference defensive tackle."
"What makes them so unusual," Prince said of the Jayhawks, "is that they can generate quite a bit of pass rush from their interior linemen on defense."
And McClinton in particular is leading that charge - physically, mentally and spiritually.
More like this story on KUsports.com