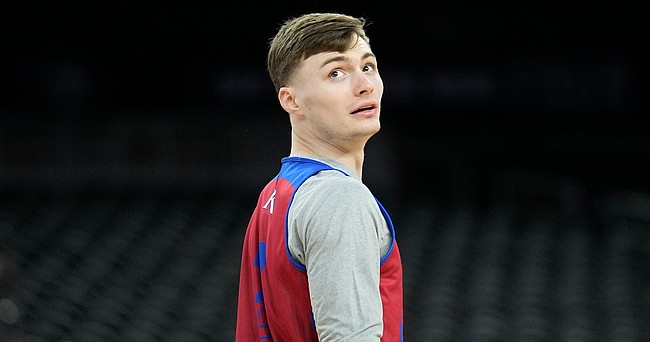 New Orleans — On a stage with four college basketball powerhouses, Kansas basketball coach Bill Self said this week that he thought the shine of the first-ever Final Four matchup between Duke and North Carolina has fewer people talking about the Kansas-Villanova matchup that will precede it on Saturday night.
"It's perfect," said KU guard Christian Braun on Friday. "We don't need anyone to talk us up. We know who we are. We're Kansas. So (people) can talk about whoever they want. We know what we do. We know what we've done all year and we're excited to get it going."
While the idea of Kansas versus Villanova — and the 4,206 wins and 200-plus years of history between them — being some kind of undercard might seem a bit preposterous, it's hard to ignore the magnitude of what Duke and Carolina playing on this stage means.
Twice a year, whenever the two ACC powerhouses meet up, those games typically grab headlines for the better part of a week. Many believe Duke-UNC is the greatest rivalry in all of sports, and their long list of legendary moments, coaches and players certainly adds to that claim.
"We're focused on Kansas so much that we're trying not to think about Duke and UNC," Villanova forward Brandon Slater said. "But I do have to say, those are two really great programs and great coaches. That's one of college basketball's most storied rivalries. That's going to be an amazing game. But we're going to give our heart in this Kansas game, and that's all we're pretty much focused on."
It's not as if Kansas and Villanova are chopped liver.
KU currently has more wins (2,355) than any other program in college basketball history. And Villanova, with its two titles and 20-3 NCAA Tournament record since 2016, has been the hottest program in all of college basketball over the past seven seasons. Beyond that, Self and Villanova coach Jay Wright are both Hall of Famers.
As great as the matchup between Duke and UNC may be — they split the regular season series, with each winning on the other's home floor — even those two programs can't make that claim, despite the massive storyline surrounding Duke coach Mike Krzyzewski retiring at the end of the Blue Devils' season.
"The undercard here will get more attention than anything we've ever had before," Self said on Thursday. "So I don't look at it that way at all. The majority of the attention, and probably rightfully so, will be on the second game because it's Duke and Carolina and they've never met (in the Final Four) and it's Coach K's last year and all those things. But we're fired up. I don't think anybody in this field is flying under any radar or anything like that. Everybody has the same goals. And, actually, I believe all four teams have a legitimate shot (to win it all) if they play well."
Wright agreed with Self and said that he had not spent any time worrying about which semifinal game would draw top billing because he had been too preoccupied with trying to figure out how to handle the top-seeded Jayhawks.
"When you say it, I get it," Wright said of the undercard tag on KU-Nova. "Somebody else did say that to me. But I'm so worried about Kansas, honest to God. They're so fast. And what's really impressive about them is, in their half-court offense, they cut so fast. I remember watching a (KU) game on like a Big Monday. They were playing Texas Tech. It was the end of the game. It was in Lawrence. And they had to get a 3, and they passed and cut and passed and cut and I was like, 'Holy, man, I'm glad we don't have to play them.' And now here we are."
While Duke and North Carolina might be grabbing more than their share of the pre-Saturday attention, the Blue Devils and Tar Heels themselves don't appear to be playing up the main event angle one bit.
"Obviously, we know there's another game going on," said Duke forward AJ Giffin. "But I think we're just so focused on our game. We're not looking too far ahead or anything. We'll be able to see what happens with their game, but we want to focus as much as we can on ours. I think that's our main priority."
Top-seeded Kansas (32-6) and No. 2 seed Villanova (30-7) are slated to tip off at 5:09 p.m. Saturday. Duke and Carolina will play afterwards and the winners will meet Monday night for the national title.
Here's a look at our coverage from New Orleans so far:
• Kansas, Villanova don't care if they're playing in the Final Four shadow of Duke and North Carolina
• Kansas' confidence, swagger during Final Four run drawn from experience
• Kansas will be tested by Villanova's strategy of posting up its guards
• KU guard Ochai Agbaji is in position to add name next to Danny Manning's on exclusive list
• Hi Mom: KU coach Bill Self's mom has been back in the bleachers for KU's run to the Final Four
• Villanova's Caleb Daniels completes 'marathon' from New Orleans to Final Four
• Bill Self, Jay Wright agree – 2018 matchup has no bearing on this year's game
• Self finds it 'pretty special' to have Kansas City-area kids Ochai Agbaji and Christian Braun as key part of KU's run
• Bill Self hopes Jayhawks play for themselves and each other and 'just enjoy it'
• Photo gallery from Day 1 of KU-Villanova
• Duke coach Mike Krzyzewski reached out to KU coach Bill Self after passing of Self's father
• Bill Self breaks down Villanova guard Collin Gillespie
• Villanova, Jay Wright give initial thoughts on Kansas
• A quick capsule glance at Villanova
• Kansas enjoying 'great experience' in its first day at the Final Four
• Jayhawks arrive in New Orleans ready to soak up 'college basketball's best'