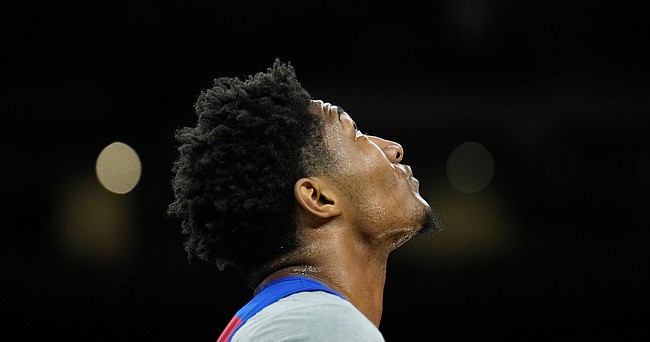 New Orleans — If David McCormack could offer advice to his younger self, one of the first things he would say would be to always be present and appreciate the moment.
That's what has helped the Kansas senior approach the Final Four this week with what he believes is the proper mindset.
"Stay present in the game that you're playing and the practice that you're in and never miss out on an opportunity," McCormack said. "Every game, every practice, is a blessing."
As Kansas approaches its Final Four game against Villanova on Friday, it does so with the swagger of a team that has reached that stage before — except all but two of its players haven't.
Forward Mitch Lightfoot, a sixth-year senior, and guard Chris Teahan, a fifth-year senior walk-on, were on the team when it reached the Final Four in 2018 and lost to Villanova. The Jayhawks lost to Auburn in the second round in 2019, the NCAA Tournament was canceled amid the start of the COVID-19 pandemic in 2020 and they lost in the second round to USC a year ago.
That confidence, its players have said all week, is a mentality drawn from their significant experience. Only two players in the Jayhawks' rotation — freshmen KJ Adams and Zach Clemence, who have played a combined 23 minutes in four NCAA Tournament games — have been in college for fewer than three years.
Kansas' players have played a combined 1,194 games. Those on Villanova, which also has a rotation with only two underclassmen, have played a combined 951 games.
"I think being an older guy definitely helps you at this point with being a lot more mature and just kind of understanding the game and understanding the stage you're on," McCormack said. "When you're a lot younger, there's a possibility that you get caught in the bright lights and the amount of people that are cheering for you or against you. When you're older or more mature, you kind of block all that out and realize that everything is inside of the team and inside of the program.
"As long as you worry about yourself and what you do on the court, everything else shouldn't bother you or shouldn't affect you."
The youngest players in Kansas' starting lineup are Jalen Wilson and Dajuan Harris Jr., a pair of redshirt sophomores. That means its core — they, plus McCormack, senior Ochai Agbaji and junior Christian Braun — have had plenty of time to play together and gel.
Wilson this week has often called his teammates his "brothers," and Braun said their familiarity with each other "just set the standard for the team" this season.
"Once we got things rolling, we all realized, 'Man, we can really win the national championship,'" Braun said. "We're starting to win championships when we put stuff together. You saw in the Big 12 tournament that it was all about winning. Nobody's talking about personal accolades. ... You see everybody talk about the team, and I think that stems from being together so long."
Age, of course, is no guarantee of success. Duke, which starts three freshmen in Paolo Banchero, AJ Griffin and Trevor Keels, has also reached the Final Four and will play North Carolina on Friday in the other national semifinal.
It has relied heavily on freshmen in coach Mike Krzyzewski's later years, especially players who left for the NBA after one season — a list that includes Zion Williamson, Jayson Tatum and Kyrie Irving, as well as Justise Winslow and Jahlil Okafor, who led the Blue Devils to the national title in 2015.
Griffin, who is scoring 10.5 points per game and shooting 50.2%, said he talked to teammate Wendell Moore Jr., a junior, and his sister Aubrey, a junior at UConn who played in a Final Four game last season, for advice on how to handle the emotions.
Krzyzewski said he talked to his freshmen earlier this week about minimizing distractions — and, he acknowledged, "the further you go, it's harder for them."
"There's no question that you'd rather have an older team than a younger team," Krzyzewski said. "But if you have a younger team, you have to get them as old as possible during the season and develop a camaraderie that is at a level worthy enough to compete against those older teams."
Agbaji, the Big 12 player of the year and Kansas' leading scorer, said a lot of his teammates' experience has been gained through the varying types of games they've played this season.
They defeated Stony Brook by 29 points, were surprisingly defeated on a neutral court by Dayton, recovered from a 17-point second-half lead to win at Kansas State, gutted out a double-overtime victory at home against Texas Tech, were blown out at home against Kentucky and lost at Texas in the final minute.
"I think just this season alone, going through conference, having every single type of game that you could imagine ... I think we're just battle-tested and we have been this whole season," Agbaji said. "We pride ourselves on that. We have a lot of confidence on going into any game no matter what the circumstances are."
McCormack, who was the Big 12's most improved player a year ago, has recognized how much his mentality has changed. He said he has become more of a leader and understands how not always making a big play will affect the game.
And as he prepares for the end of his time in college at some point in the coming days, he has come to appreciate what he has accomplished.
"I wouldn't second-guess or think anything else of it," McCormack said. "It's truly special to stay here all four years and grow with the guys — Ochai and the guys that I have played with since my freshman year."
Here's a look at our coverage from New Orleans so far:
• Kansas, Villanova don't care if they're playing in the Final Four shadow of Duke and North Carolina
• Kansas' confidence, swagger during Final Four run drawn from experience
• Kansas will be tested by Villanova's strategy of posting up its guards
• KU guard Ochai Agbaji is in position to add name next to Danny Manning's on exclusive list
• Hi Mom: KU coach Bill Self's mom has been back in the bleachers for KU's run to the Final Four
• Villanova's Caleb Daniels completes 'marathon' from New Orleans to Final Four
• Bill Self, Jay Wright agree – 2018 matchup has no bearing on this year's game
• Self finds it 'pretty special' to have Kansas City-area kids Ochai Agbaji and Christian Braun as key part of KU's run
• Bill Self hopes Jayhawks play for themselves and each other and 'just enjoy it'
• Photo gallery from Day 1 of KU-Villanova
• Duke coach Mike Krzyzewski reached out to KU coach Bill Self after passing of Self's father
• Bill Self breaks down Villanova guard Collin Gillespie
• Villanova, Jay Wright give initial thoughts on Kansas
• A quick capsule glance at Villanova
• Kansas enjoying 'great experience' in its first day at the Final Four
• Jayhawks arrive in New Orleans ready to soak up 'college basketball's best'