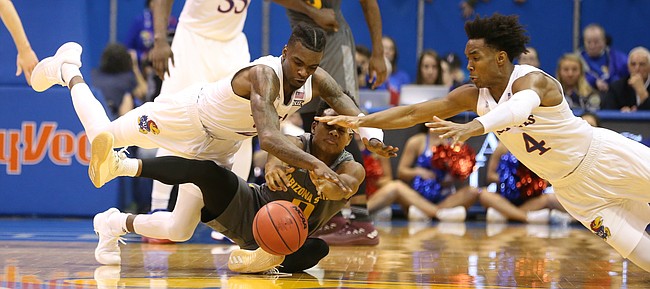 Rare back-to-back losses for Kansas this past week cost the Jayhawks 11 spots in the Associated Press Top 25.
Previously ranked No. 2 in the nation, KU's men's basketball team dropped all the way down to No. 13 in the new rankings released Monday.
Kansas (7-2) first lost to unranked Washington (7-3) at Sprint Center — the Huskies followed up the upset with a 97-70 home defeat to No. 12 Gonzaga.
Next, KU dropped another Pac-12 matchup on Sunday at Allen Fieldhouse, where Arizona State remained undefeated.
The ASU victory jumped the Sun Devils from No. 16 in the country to No. 5.
Only No. 1 Villanova (10-0), No. 2 Michigan State (9-1), No. 3 Wichita State (8-1) and No. 4 Duke (11-1) currently rank ahead the Sun Devils (9-0).
The Jayhawks, meanwhile, now have 12 teams in front of them, including one from the Big 12 — No. 11 West Virginia (9-1), which defeated No. 16 Virginia this past week.
Three other Big 12 programs rank among the top 25: No. 14 TCU (10-0), No. 21 Baylor (7-2) and No. 24 Texas Tech (7-1).
Before this past week, Kansas had survived a stretch of 146 games without consecutive losses.
The last time Bill Self's program lost twice in a row was in 2013, when the Jayhawks came up short on the road at Colorado and at Florida.
AP Top 25 — Dec. 11, 2017
No. 1 - Villanova
No. 2 - Michigan State
No. 3 - Wichita State
No. 4 - Duke
No. 5 - Arizona State
No. 6 - Miami
No. 7 - North Carolina
No. 8 - Kentucky
No. 9 - Texas A & M
No. 10 - Xavier
No. 11 - West Virginia
No. 12 - Gonzaga
No. 13 - Kansas
No. 14 - TCU
No. 15 - Seton Hall
No. 16 - Virginia
No. 17 - Purdue
No. 18 - Notre Dame
No. 19 - Florida State
No. 20 - Tennessee
No. 21 - Baylor
No. 22 - Florida
No. 23 - Arizona
No. 24 - Texas Tech
No. 25 - Cincinnati
---
More news and notes from Kansas vs. Arizona State
---