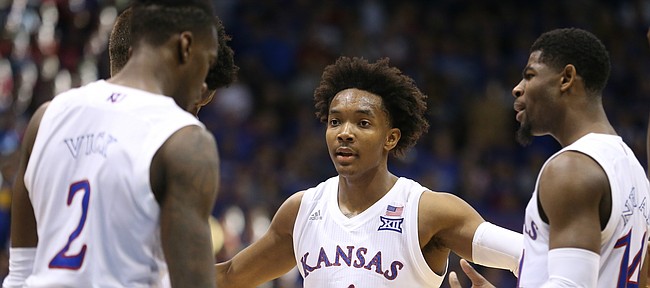 Kansas basketball coach Bill Self did not earn his Hall of Fame jacket or eclipse the 600-win mark by being wishy-washy throughout his career.
But after watching his team suffer back-to-back losses last week to Pac-12 teams Washington and Arizona State, he appears to be considering tweaking the way his team operates in order to create a more competitive and hungry roster.
"Maybe I shouldn't be as surprised," Self said when asked after Sunday's loss what he thought of his team's inability to answer his recent call for toughness. "And maybe I need to change. I'm not ready to accept that that's the best we've got. But it's pretty embarrassing to keep looking at the tape afterwards and saying, 'Well, this is what we don't have.' We've been saying it now the entire year, at least from a defensive and competitive standpoint."
Photo Gallery
Kansas basketball v. Arizona State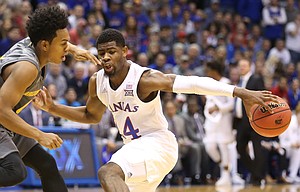 View a gallery of images from Sunday's matchup between the Jayhawks and Sun Devils in Allen Fieldhouse.
What the Jayhawks have not had much of in the past two games is the kind of defense for which Self's teams typically have been known.
Unbeaten Arizona State, which on Monday jumped up to No. 5 in the latest AP poll — KU (7-2) fell 11 spots to No. 13 — became just the 25th team in 15 years to shoot better than 50 percent in a game against a Bill Self-coached Kansas team. And the Sun Devils' final mark of 50.8 percent came as a result of a blistering second half in which they shot 57.6 percent from the floor.
Washington, which shot 48.3 percent against KU four days earlier, nearly accomplished the feat as well, and the Huskies finished their final half against Kansas shooting 53.6 percent from the floor.
Whether you're looking at the numbers or utilizing the eye test, it's clear that the KU defense is in a funk right now. And that, as much as the losing, is what has Self considering the change. What that change will be remains to be seen and also represents the more challenging part of the equation.
If Self had his way, this team would use pride and frustration, fundamentals and coaching to become a better man-to-man defensive team ahead of Saturday's 7 p.m. clash at Nebraska.
But coming on the heels of back-to-back losses and in need of an answer sooner rather than later, Self and company might not have the time they need to allow those factors to elevate KU's team defense.
"So maybe we need to do something to shorten the game," Self said Sunday. "Maybe we need to do something to figure out a matchup zone to play or something like that. I'm talking about change what we do to allow us to maybe better utilize our guys defensively."
One of the biggest factors to remember in the face of this potential change is the Jayhawks' lack of depth.
Twice on Sunday, Self mentioned second-half fatigue as a potential reason for his team's poor defensive performances of late, and senior point guard Devonte' Graham said it was not necessarily just a physical issue.
"It's just something that's really mental," Graham said. "We've only got seven players, and you're going to get tired, regardless, but you have to be able to fight through that."
Asked if he thought Self's idea of slowing the game down could be a solution, Graham said simply, "If that's something he wants to do. I mean, he's the head coach."
Regardless of what lies ahead for the Kansas defense in the coming weeks, it's also important to remember that this is not likely to be a complete overhaul.
For one, Self has never been the kind of coach who likes his teams to play zone, so the change, if it happens, likely will come in the form of mixing periods of zone defense into the 40-minute game to give his players a rest rather than by having Kansas commit to playing zone exclusively.
"I've always been a believer that whenever you do things to bail kids out or bail teams out, it's usually not best for your team over time," Self said. "It may help you win a game or two, but come January or February, I'm not sure that's what's best for your team over time. What's best for our team is that we develop a tougher mindset. And, you know, we can do that. There's a lot of things that we've got to address from a competitive standpoint that I think we'll get better at, without question. But right now it's not clicking for us at all on (the defensive) end."
Even if mixing in a zone is the plan, and even if it works, Self said there was no getting around the need for his players to have the pride to improve as individual defenders.
"Just because you play zone doesn't mean that's a cure-all," Self said. "It's still a mindset. It's a ball that's in the air and it's a 50-50 ball, who's going to get it? Even though it's a zone, it's still man principles when you're guarding the ball. You still have to be able to keep the ball in front of you."
---
More news and notes from Kansas vs. Arizona State
---