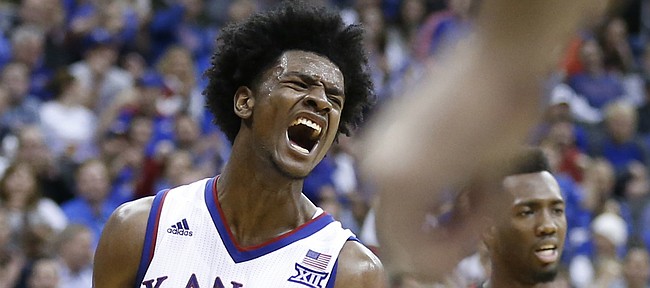 Kansas City, Mo. — Regardless of what head coach Bill Self wants or even what Kansas basketball fans expect, it would behoove those following the Jayhawks to embrace one reality sooner rather than later.
This Kansas team, at least through five games, appears as if it will go as Frank Mason III, Devonté Graham and Josh Jackson go on most nights. Luckily for the Jayhawks, that trio went very well on Tuesday during a late-tip, 65-54 victory over Georgia in the CBE Hall of Fame Classic championship game at Sprint Center.
Mason, Jackson and Graham combined to score 48 of KU's 65 points on 18-of-39 shooting from the floor. That same trio scored all but two of KU's 35 first-half points on 12-of-24 shooting from the floor.
After the final horn sounded, KU's top guns were honored by the Sprint Center public address announcer for earning three of the five spots on the CBE Classic all-tournament team.
Photo Gallery
Kansas v. Georgia (CBE Classic Championship)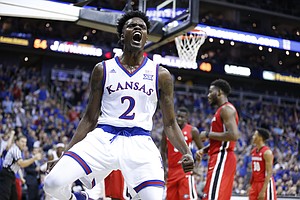 View a gallery of images from the Jayhawks' matchup with the Bulldogs on Tuesday at Sprint Center.
Wearing their white CBE championship T-Shirts, Graham (14 points, four steals, 36 minutes), Mason (19 points, three steals, 37 minutes) and Jackson (15 points, 11 rebounds, 35 minutes) walked to mid-court to collect their individual hardware before being joined by their teammates to hoist the tournament trophy.
Jackson was named the tournament's MVP, though you'd never know it from his slow stroll and humble smile.
"So much fun," said Jackson, when asked what playing with Graham and Mason had been like thus far. "They make the game so much easier. I'm not gonna lie, sometimes I'm able to take plays off because I know those guys, I trust 'em so much to score."
Sophomore guard Lagerald Vick was the only other Jayhawk to score in the first half, which made sense given that he was the player who spent the most time playing with KU's triumphant trio in this one.
Podcast episode
Kansas coach Bill Self addresses the media after the Jayhawks' 65-54 win against Georgia in Kansas City, Mo.
Vick finished with nine points and eight rebounds on a night when KU's big men again struggled to produce and stay on the floor. That made KU's four-guard lineup even more important.
"If we didn't have Frank and Devonté and Josh, that would've been a pretty lopsided loss," Self said, stating the obvious.
Although the scoring punch provided by KU's top trio did not at all eliminate the continuing struggles of KU's big men, it did prevent the Jayhawks from falling victim to those struggles. But not immediately.
After jumping out to leads of 17-0 and 25-3 in the same building in a 20-point win over UAB one night earlier, the Jayhawks (4-1) started a little sluggish in this one. Georgia (3-2) was quicker to the glass on both ends when shots missed and made five of nine to open the game with a 10-5 lead.
Soon thereafter, Kansas found its form on the defensive end and that led to several transition opportunities and easy buckets for the Jayhawks, who hit UGA with a 13-4 run to take a 15-12 lead at the under-12 timeout.
To that point, Jackson and Mason accounted for all of KU's points, often times perfectly setting up each other for easy points at or near the rim.
As he hinted at Monday night, Self went to freshman center Udoka Azubuike early on Tuesday, subbing the 7-footer in for Landen Lucas at the 16:35 mark of the first half.
During his first three minutes on the floor, Azubuike made the move look good, blocking a mid-range jumper and barreling into the Kansas bench to try to save the swat. Seconds later, however, Azubuike, who finished the game having played just five minutes total — mostly, Self said, because he had very little experience with playing zone defense — joined Lucas in picking up his second foul and both big men went to the bench, leaving Carlton Bragg Jr. (3 points in 10 minutes) and Jackson to man the Kansas frontcourt.
Both teams spent good portions of the game playing zone defenses, as foul trouble again plagued the Jayhawks in the first half.
"For pride, we'd probably rather play man," Jackson admitted. "But to win the game, we had to go zone and it worked."
Added Mason of KU's 2-3 zone: "It worked pretty well for us. Hopefully we don't have to play zone again. We take pride in our man-to-man."
The first six fouls called on Kansas went against the Jayhawks' first three big men, with Lucas picking up two fouls 32 seconds apart and watching from the bench as Azubuike quickly followed with two of his own just 43 seconds apart. Not to be outdone, Bragg got his second on a sloppy over-the-back call on an offensive rebound he had no shot at getting.
That forced Self to turn to junior Dwight Coleby for a little size to match the Bulldogs' beef, and the Bahamas native gave Kansas nine good minutes to end the first half.
Get this. Before fouling out with three minutes to play, Coleby basically matched, in 20 minutes, what Lucas, Azubuike and Bragg did combined.
The junior from the Bahamas finished with two points, four rebounds, four blocks and an assist. The other three? Three points, four rebounds, one block and one assist in a combined 25 minutes.
"He did great," Mason said of Coleby. "We're all happy for him and hopefully he can get in the rotation more going forward."
Added Self, asked what went wrong for his starting frontcourt on Tuesday night. "Everything. Dwight was by far the best big we had and he had two points and four rebounds. They're just not playing very well and not playing very smart. They're good kids and they want to do well, but, for whatever reasons, they both have really struggled."
Self said after last Friday's home-opening win over Siena that he was looking forward to Wednesday because it will mark the end — at least temporarily — of one heck of a hectic stretch to open the season.
When he wakes up today, Wednesday will have arrived and the rest of the season will be in front of him, with three of the most talented players in the country leading the way.
"We're 4-1 and we're fortunate to be that," Self said. "We need to go home. We play on Friday, obviously, and can catch our breath maybe after that. I think if anything our guys are mentally fatigued as much as anything."
---
More news and notes from Kansas vs. Georgia
---