Kansas City, Mo. — Basketball belongs to big men. Everybody knows that. It's a big man's game, except when it's not.
The presence of two of college basketball's best sub-6-footers Tuesday night in Sprint Center created the possibility of a sawed-off duel.
Kansas senior Frank Mason III, listed at 5-feet-11, 190 pounds, entered the night averaging 22.3 points, and came out of it having led his team in scoring in four of five games.
Georgia's 5-10, 155-pound J.J. Frazier came in averaging 18.8 points.
The showdown never materialized for a couple of reasons. First, Georgia played mostly zone. Surprisingly, so did Kansas, playing it well enough to defeat Georgia, 65-54, and win the CBE Classic title in front of a pro-Kansas crowd numbering 12,147. 
Photo Gallery
Kansas v. Georgia (CBE Classic Championship)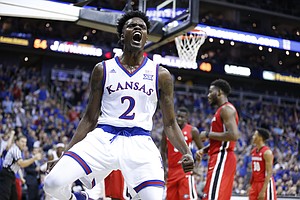 View a gallery of images from the Jayhawks' matchup with the Bulldogs on Tuesday at Sprint Center.
When the Jayhawks played their customary man-to-man defense, Graham checked Frazier and shut him down. 
Aside from not guarding each other, the battle never materialized because only one of the two, Mason, came up big, yet again. 
Scoring from beyond the three-point arc, the free-throw line and on runners and hard drives to the hoop, Mason produced 19 points, five rebounds and three steals. It wasn't his tidiest game. He turned it over five times. Frazier finished with two points and made just 1 of 10 shots.
It's a good thing KU's smallest player is off to such a big start, because the biggest Jayhawks haven't yet figured out how to stay out of foul trouble, rebound consistently or finish through contact.
Podcast episode
Kansas coach Bill Self addresses the media after the Jayhawks' 65-54 win against Georgia in Kansas City, Mo.
For the first 29 minutes of the game, KU bigs Landen Lucas, Carlton Bragg, Udoka Azubuike and Dwight Coleby had played a combined 36 minutes without a point. Not only that, to that point they had totaled more personal fouls (10) than rebounds (seven, four from Dwight Coleby). 
Tournament MVP Josh Jackson and all-tourney selection Mason did a nice job of compensating for the absence of bigs by doing some of their dirty work for them. One of Mason's more impressive contributions came with Kansas up 16 points more than midway through the second half. He raced to the block and soared to deflect a post pass, chased down the ball in the corner before it went out of bounds and managed to keep balance well enough to arc an on-target pass to Graham in the frontcourt.
There used to be an award for the best college basketball player who measured 6-feet or smaller. It last was given in 2014 and as far as I know, nothing replaced it. It should be brought back, considering only sub-6-footers and be named after former Niagara great Calvin Murphy, the greatest small man ever. Murphy, of course, was overlooked in the NBA draft, falling out of the first round, because little men get the Rodney Dangerfield treatment. The 5-9 superstar who was born 5/9/1948 went on to score 17,949 points, averaging 17.9 points throughout his 13-year Houston Rockets career.
Mason's not Murphy, but the fact Calvin, a national-champion baton twirler as a teenager, was overlooked so badly in the draft after averaging 33.1 points for his college career and torching Syracuse for 68 points should teach current NBA general managers to give a much longer look than Mason's short frame and reach trick their minds into thinking he deserves.
Maybe it's just as well the Calvin Murphy Award doesn't exist. It would supply an out for those not willing to consider a 5-11 player for player of the year honors, for which Mason is in the midst of building a strong case.
"Frank's got a lot of heart," Jackson said. "His ability for a guy his size, I've never seen a guy be able to finish as well as he has."
That happened to be Murphy's most remarkable quality as well.
---
More news and notes from Kansas vs. Georgia
---