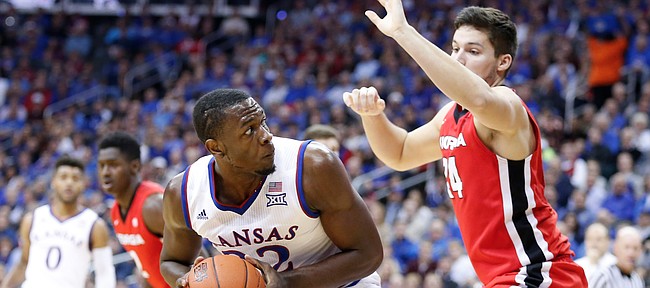 Kansas City, Mo — After playing just three minutes, missing his only shot and grabbing just one rebound during Monday night's 20-point Kansas win over UAB, junior forward Dwight Coleby was not quite sure what to tell his father.
No, it's not that Dwight Sr. is hard on his son after bad games. Instead, the younger Coleby was disappointed that his father came all the way from Nassau, Bahamas to watch his son turn in that kind of night.
"I didn't really know what to expect (with) him coming here to watch me play and I wasn't playing that much," Coleby said.
Photo Gallery
Kansas v. Georgia (CBE Classic Championship)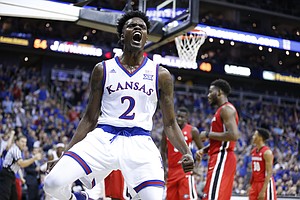 View a gallery of images from the Jayhawks' matchup with the Bulldogs on Tuesday at Sprint Center.
Good thing the CBE Classic was a two-game tournament.
After being a non-factor in KU's first win at Sprint Center, Coleby was what KU coach Bill Self called "by far" the team's best big man during Tuesday's 65-54 victory over Georgia in the championship game, earning Coleby praise from his teammates, coaches and the KU fans and his giving his father a big smile.
"I know he was happy," said Coleby, unable to erase the grin from his face. "I finally had a game where I played that much.... It was great."
Not only were Coleby's numbers nothing to write home about. They might not even have been worth the ink and paper for a note to slide under the door at his father's hotel near Sprint Center. Two points, four rebounds, four blocks and five fouls in 20 minutes. By most standards, that's an average night at best.
Podcast episode
Kansas coach Bill Self addresses the media after the Jayhawks' 65-54 win against Georgia in Kansas City, Mo.
But for a guy who transferred from Ole Miss and sat out an entire year while nursing a knee injury that put him even further behind than the transfer season already would have, those numbers were like hitting the lottery.
And the KU fans knew it. Each time Coleby exited the floor Tuesday night, the fans stood and cheered, with the roar growing louder each time.
"You think about it; he got four blocks, but he gets two points and four rebounds and every time he checked out of the game, the fans all cheered for him," Self said. "What other bigs did they cheer for when they checked out of the game? And it's all because he tried. He played with energy and that kind of stuff. I don't think it's that hard to please our fans if you give great effort and play intelligently and he did what he could tonight."
Still a bit of an unknown player on this team, Coleby said hearing the fans' appreciation for his efforts made all of the hard work and frustration from the past year-plus worth it.
"It's a great feeling," he said. "I haven't been playing since last year and it was exciting to see the fans want to see me do good."
---
More news and notes from Kansas vs. Georgia
---