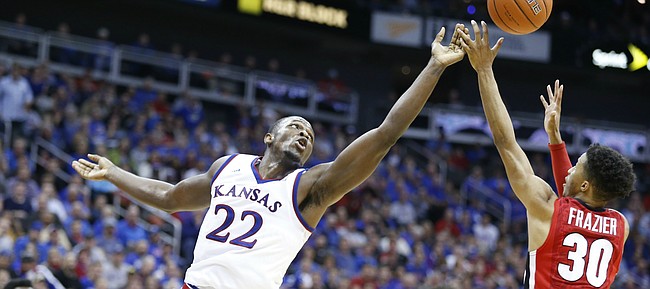 Kansas City, Mo. — Junior forward Dwight Coleby played his first significant stretch of minutes for the Kansas men's basketball team during Tuesday's 65-54 victory over Georgia in the CBE Hall of Fame Classic championship game at Sprint Center.
Entering for the first time with 8:39 remaining in the first half, Coleby logged nine first-half minutes and finished that stretch with two rebounds and two blocks, while helping navigate Kansas through foul trouble to its top trio of big men, Landen Lucas, Carlton Bragg and Udoka Azubuike.
His performance was far from flawless, but he avoided bad fouls — even though he, too, had two at the break — and helped Kansas take a 35-25 lead into the locker room at halftime.
An easy second-half bucket made Coleby the first non-guard to score a point for the Jayhawks (4-1) during Tuesday's victory.
Photo Gallery
Kansas v. Georgia (CBE Classic Championship)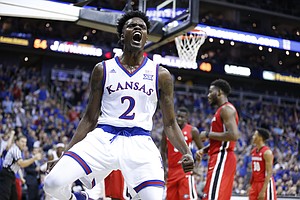 View a gallery of images from the Jayhawks' matchup with the Bulldogs on Tuesday at Sprint Center.
After electing to start the second half with starters Lucas and Bragg back in the Kansas front court, KU coach Bill Self quickly returned to Coleby at the 19:15 mark of the second half after Lucas carelessly picked up foul No. 3.
For the game, the 6-foot-9, 240-pound Coleby finished with two points, four rebounds, four blocks and an assist in 20 minutes. Perhaps more importantly for him, he appears to have moved ahead of freshman forward Mitch Lightfoot in KU's big man rotation.
Coleby received a loud round of applause from the Sprint Center crowd the first two times he checked out of the game after entering unexpectedly.
Podcast episode
Kansas coach Bill Self addresses the media after the Jayhawks' 65-54 win against Georgia in Kansas City, Mo.
Short Thanksgiving break
One day after the holiday, Kansas will play host to UNC-Asheville at 7 p.m. Friday at Allen Fieldhouse.
The game will mark KU's sixth game in 15 days to open the 2016-17 season, a stretch that included long trips to Hawaii and New York City. KU then will get three days off before returning to the court Nov. 29 against Long Beach State.
Tickets, tickets, tickets
Tickets for the CBE Classic title game were still available all the way up to tip-off and were available for what many would consider a bargain price.
Seats in the upper deck were available for as low as $29 and messages on Twitter throughout the day Tuesday indicated that the ticket broker service was offering a two-for-one promotion for Tuesday's games.
Official attendance for KU's win over Georgia was listed at 12,147. Sprint Center's basketball capacity is listed at 18,972.
Get used to it
ESPN play-by-play man Bob Wischusen had the call for KU's CBE games this week and his voice is one which KU fans should soon be familiar.
Wischusen, a longtime New York-based broadcaster, is taking over Big 12 play-by-play duties from Brent Musburger and will team with Fran Fraschilla to call ESPN's Big Monday and Saturday Big 12 games throughout the season.
Home away from home
Throughout the years, Kansas City has been a second home of sorts for the Kansas men's basketball program, which now has played 298 games in the city of fountains.
Tuesday's victory made the Jayhawks 218-80 all-time in Kansas City, with 106 of those games coming at Kemper Arena, where Kansas owned an overall record of 81-25.
The win over Georgia was the Jayhawks' 33rd win at Sprint Center, against just six losses.
The first game ever played by Kansas in K.C. came on Feb. 3, 1899, when the Jayhawks lost to Kansas City YMCA, 16-5.
This and that...
KU now leads the series with Georgia 4-0.... The Jayhawks 4-1 start is the sixth such start in the 14-year Bill Self era.... Tuesday's win improved KU coach Bill Self's all-time record to 389-84 at Kansas and 596-189 overall and pushed KU's all-time win total to 2,190, second in college basketball history.
---
More news and notes from Kansas vs. Georgia
---