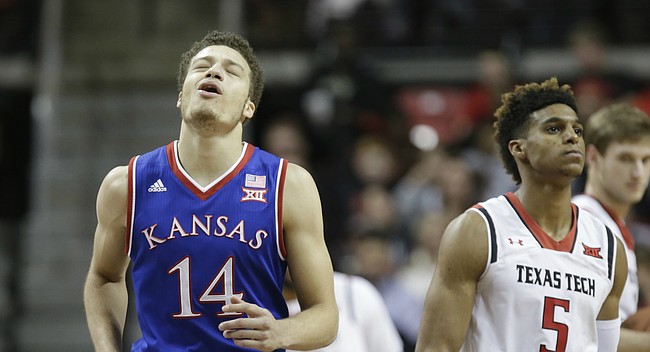 Playing for the first time since walking off the floor following a thrilling, triple-overtime victory over Oklahoma on Monday night at Allen Fieldhouse, the Kansas men's basketball team had enough in its tank to knock off Texas Tech, 69-59, Saturday night in Lubbock, Texas.
The loss dropped Texas Tech to 0-8 all-time against No. 1-ranked teams.
Nothing about Saturday's victory was easy for the Jayhawks. The Red Raiders (11-3 overall, 1-2 Big 12) came out with incredible energy, played hard in just about every way and threw punch after punch at the Jayhawks throughout the night.
But thanks to its superior balance, experience and depth, the Jayhawks got key contributions from a number of different places and survived the close call that surprised no one.
Photo Gallery
Kansas basketball v. Texas Tech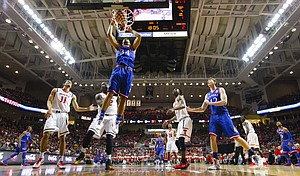 Images from Saturday night's game between the Jayhawks and Red Raiders at United Spirit Arena in Lubbock.
After falling behind by 10 (42-32) early in the second half, Tech unleashed a 12-2 run to pull even at 44 with 10 minutes to play.
But KU (14-1, 3-0) immediately jumped back in front with a bucket inside from Landen Lucas and triples from Frank Mason III and Sviatoslav Mykhailiuk, and the Jayhawks (14-1 overall, 3-0 Big 12) never looked back.
Kansas led just 29-27 at the break and neither team played particularly well in the first half. However, both teams definitely played hard, with all kinds of second-chance points and tough defensive possessions being the theme of the first 20 minutes.
KU junior Wayne Selden Jr., who leads the team in scoring, was held scoreless in the first half, missing all seven shots he took, including 0-for-5 from three-point range.
Brannen Greene (6 points, 4 rebounds, 2-of-3 three-point shooting) helped pick up the three-point shooting slack by draining both treys he attempted in the first half to help KU maintain a slight advantage.
Mason led Kansas to the hard-fought road win by finishing with 18 points, 10 rebounds and five assists. Perry Ellis delivered another double-double, leading the Jayhawks with 15 points and 10 rebounds.
Here's a quick look back at some of the action:
• The game turned when: KU came out of the locker room after halftime determined to gain some separation and did just that with five buckets right at the rim, two from Carlton Bragg, two from Selden and another from Ellis that pushed the KU lead to 39-31.
• Offensive highlight: It was not your typical highlight-reel play but with just over two minutes left and Tech having trimmed the Kansas lead to four, the Jayhawks ran the shot clock all the way down and operated with poise as the buzzer approached. First, Devonté Graham pushed the ball to Mason at the top of the key, who quickly and without thinking, shoved a pass to Selden in the corner. Selden, who benefited from a great screen from Lucas, drained the three and KU led by seven with less than two minutes to play. On the very next trip, KU broke Tech's press with ease and Lucas floated a soft lob to Perry Ellis, who slammed the exclamation point on the KU victory.
• Defensive highlight: Midway through the first half, during a rough stretch for KU senior Jamari Traylor, the veteran forward once again showed why he continues to log minutes. After throwing the ball away on an easy entry pass, Traylor raced back down the floor to erase a would-be layup by Texas Tech in transition by rising high above the rim and swatting the shot attempt off the glass and giving the Jayhawks a transition chance of their own.
• Key stat: Late three-point shooting. On a night when KU could not find its stroke for most of the game — especially from three-point range — Mason and Svi hit a few devastating triples down the stretch to help the Jayhawks survive the upset bid by the Red Raiders. KU shot 9-of-22 from three-point range (41 percent) but started just 5-of-17.
• Up next: The Jayhawks will remain on the road for their next game, a 6 p.m. clash at West Virginia on Tuesday night. West Virginia, which entered Saturday night ranked 17th, knocked off Oklahoma State, 77-60, to move to 3-0 in conference play, which means Tuesday's showdown will be for sole possession of first place four games into the Big 12 season. 
— See what people were saying about the game during KUsports.com's live coverage
---
More news and notes from Kansas at Texas Tech
---