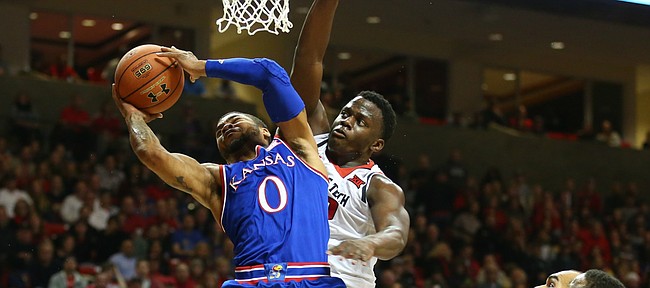 Lubbock, Texas — Nobody will ever deem Saturday's 69-59 Kansas University victory over Texas Tech one for the ages, or one to even remember for more than 24 hours or so.
Most would probably agree a game in which the No. 1-ranked Jayhawks (14-1, 3-0) led the (11-3, 1-2) Red Raiders, 29-27, at halftime, had little in common with Monday's epic 109-106, three-OT victory over Oklahoma.
Still— as the cliche goes — a win is a win, and Saturday's victory in United Supermarkets Arena, which kept the Jayhawks deadlocked with West Virginia in the league race heading into Tuesday's 6 p.m. (Central time) battle in Morgantown, might ultimately be just as significant as the home victory vs. OU.
"I think they go hand in hand together. We lose this game tonight, then the OU game doesn't mean anything," KU junior guard Wayne Selden Jr. said after struggling to nine points off 4-of-13 shooting. He was 0-for-7 and failed to score the first half.
Photo Gallery
Kansas basketball v. Texas Tech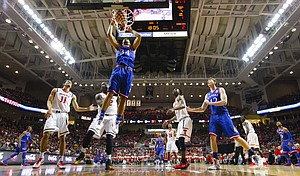 Images from Saturday night's game between the Jayhawks and Red Raiders at United Spirit Arena in Lubbock.
"We knew if we lost here today it would discredit the Oklahoma win," Selden added. "We really worked hard for the win. When it came down to it, we wanted to win the game. We got stops and made buckets."
Selden, who missed his first six threes, connected on a mighty big one on his seventh try.
His three from the corner with 2:22 left and KU up, 58-54, came as the shot clock was about to expire. His only trey of the night — which came as Tech went into a zone defense for the first time all game — gave the Jayhawks a reasonably comfy seven-point lead in crunch time.
"I wasn't surprised at the defense," Selden said. "They've got a great coach (Tubby Smith), being able to switch the defense like that. At first it caught us off guard. Lando (Landen Lucas, five points, two boards, 16 minutes) set a perfect screen. It's paying attention in practice, knowing the stuff we do."
Needless to say, KU coach Bill Self was pleased KU converted on the first try against zone.
Though Tech didn't quit after the shot — the Raiders were down 63-57 when Devonté Graham scored with 1:01 left and down again by six, 65-59, when Graham hit two free throws at :38.4 — it was a huge score.
"It's one of the things they'd not thrown one (zone) at us. We came down and realized they were in it and there was 20 (seconds) left (on shot clock). We didn't do anything to attack it," Self said. "We ran last-second zone play (with) execution perfect. Wayne hadn't made a shot the whole game. Landen set a good screen, perfect execution. Svi (Mykhailiuk, seven points, 14 minutes) and Frank (Mason III, 17 points, 10 boards, five assists on night Graham had just four points off 1-6 shooting) ... they made timely shots even though we didn't shoot the ball real well."
Mason hit a three to stretch a 46-44 lead to five points with 8:51 left. Mykhailiuk iced a three to up that lead to 52-44 at 7:41.
KU finished at 41.8 percent shooting (29 percent the first half) to Tech's 41.1 mark. KU hit 9 of 22 threes; Tech four of 16.
"I expected it to be a close game," said Self, whose squad had its biggest lead of 10 with 16:21 left. "I thought both teams played better the first half than what the stats showed. We missed a lot of open looks. They missed a lot of free throws (7 of 14 first half going 9 of 19 for game). It shoulda have been a two-point game, but 37-35 or 41-39, something like that. The second half had a little more rhythm. We said all along it would come down to the last few possessions and it certainly did."
He was insistent about the first-half play seeming uglier than it actually was.
"Wayne's shot is so good this year he goes 1-for-7. Frank has not shot well of late. Svi's not shot it great of late. It was good to see them step up and hit shots. I bet the first half we missed a lob dunk, Devonté an uncontested layup in transition, Perry (Ellis, 15 points, 10 boards) a layup he didn't see (Zach) Smith behind and he blocked his shot. We missed others from two to three feet that would have made us look better," Self concluded.
— See what people were saying about the game during KUsports.com's live coverage
---
More news and notes from Kansas at Texas Tech
---