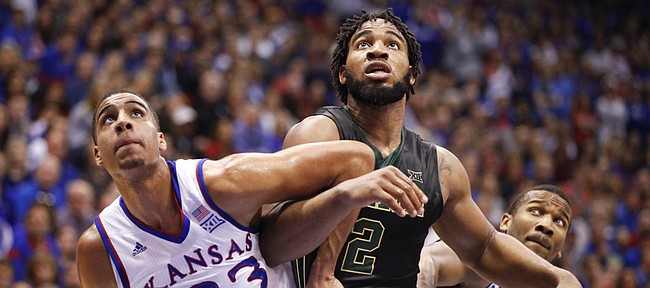 Some bench warmers pout. Others shout, lending support to teammates. Some check out the scenery in the stands. Others sit on their hands, draining the energy out of that section of the building.
Photo Gallery
Kansas basketball v. Oklahoma State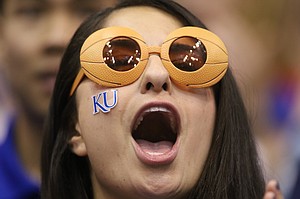 View a gallery of images from the Jayhawks' game against the Cowboys on Big Monday at Allen Fieldhouse.
Fourth-year junior Landen Lucas, a barge when running next to a speed boat like Perry Ellis, knows how to watch basketball. So he watched and put himself in the position of the players on the floor. It worked.
His father, Richard Lucas, played at the Univeristy of Oregon (1987-91) and is a former Div. I assistant basketball coach. It shows in the way his son plays, maximizing his ability, forever improving, out-working quicker opponents for rebounds.
"My dad was a big-time rebounder," Lucas said. "He always told me that if I wanted to play at the next level, whether that be middle school to high school or high school to college, I need to rebound the ball. That is something that every team needs so that is something that I have been focusing on because this team needed a rebounder. I'm happy I can be that guy for this team."
Lucas was that guy again Monday night in a 94-67 rout of injury-weakened Oklahoma State in Allen Fieldhouse. He scored a career-high 14 points, to go with 10 rebounds for his first double-double of the season and second of his career. Five of his boards came off the offensive glass on a night he reached double figures in rebounds for the third game in a row.
"It's something that I enjoy doing," Lucas said of rebounding. "Really, if you just go after the ball, that is more than what most other players are doing. If the ball is shot on one side of the basket, then it is probably going to come off the other side. It is really basic, but most people don't fight to get to the opposite side very often, so it's just the small things like that that allow me to get the rebound."
Kansas rebounded more of its misses (16 offensive boards) than the Cowboys (13 defensive rebounds) did and won the battle of the boards, 45-27.
Podcast episode
Kansas basketball coach Bill Self discusses the Jayhawks' Big Monday win over Oklahoma State, addressing, among many topics, how KU's offense looked much better than its defense.
Lucas is beginning to curtail his foul troubles, as well. His communication skills have played a part in that.
"I'm trying to make friends with the refs, first of all," Lucas said, only half joking. "I'm being friendly with them and it's paying off, so I'm just going to continue to do that. It's nice because they talk to me and there are a lot of things I do, they'll let me know, 'Ease up off of this,' or, 'Watch this or that,' and then I'm able to adjust to them. They've been great at doing that and I've been trying to play physical without getting too many fouls."
Lucas' realistic attitude helped him to make the most out of practice time and weight-room workouts.
When Lucas watched from the bench nobody had to tell him the teammates playing in front of him deserved to be on the floor more than he did. And he watched more than his teammates.
Podcast episode
Kansas basketball players Landen Lucas, Brannen Greene and Wayne Selden Jr. discuss the Jayhawks' 94-67 home win over Oklahoma State.
"There are fast people out there and there are strong people," Lucas said. "I've always looked at other people around the Big 12 and saw how they could get theirs and I always thought that I could do the same thing that they do. There are great bigs like Ryan Spangler (Oklahoma), (West Virginia's Devin) Williams and (Baylor's Rico) Gathers that I watched. And I was like, 'OK, I can do the same type of stuff that they do.' Now that I'm getting the opportunity, I'm able to do it."
And how does he do it?
"Just position, understanding of the game and just strength," Lucas said.
Lucas isn't missing as many shots as earlier in the season and he vows he eventually will hit jumpers.
"With myself and my teammates getting me the ball, it's going to continue to grow," he said of his offensive skill set. "Tonight, there were things I could do a lot better. I've been trying to get in the gym to get my jumpshot better. In due time, it will start going in."
As long as he rebounds his misses, who cares?
— See what people were saying about KU's rematch with the Cowboys during KUsports.com's live coverage
---
More news and notes from the KU-OSU rematch
---
---
---