It's hard enough for a coach to live with mistakes by his team on any given night against any opponent. When that opponent is the No. 2-ranked team in the country, which was the challenge Oklahoma State faced on Monday night in Allen Fieldhouse against Kansas, living with mistakes is not an option.
"They made us pay," OSU coach Travis Ford after his team's 94-67 loss to KU. "Every mistake (we made) they made us pay."
The final score does not illustrate the two stretches of Monday's game controlled by the Cowboys. Ford, who twice described his bunch as the "walking wounded," said he was pleased by the way his team started the game but disappointed by how it finished each half.
Photo Gallery
Kansas basketball v. Oklahoma State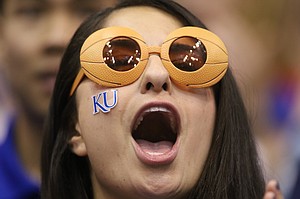 View a gallery of images from the Jayhawks' game against the Cowboys on Big Monday at Allen Fieldhouse.
He did, of course, concede that the Jayhawks had something to do with that.
"You just can't come in here and give up 94 points," Ford said. "Our defense doesn't usually do that so give Kansas credit.... That's why Kansas is Kansas."
According to the Cowboys (12-14 overall, 3-10 Big 12), Monday's game plan was to limit KU's transition buckets, keep Kansas (22-4, 10-3) from getting second shots and execute sound three-point defense.
"And we weren't successfully in any of the three," Ford said.
OSU guard Jeff Newberry said attention to detail, on both ends of the floor, was the biggest killer for the Cowboys on Monday. And he cited everything from not boxing out and missing an assignment to not executing the proper plays at the proper times.
"We had some things we thought were gonna work and they did work," Ford said. "We just had some guys that completely lost it and didn't run it. We just didn't have enough guys on the same page."
Added Newberry, before trailing off while shrugging his shoulders: "If you're not paying attention to detail.... they're the No. 2 team in the country."
And, really, that was the extent of it for an Oklahoma State team playing without freshman sensation Jawun Evans, whom KU coach Bill Self said completely controlled the first meeting, a 19-point OSU win in Stillwater, Oklahoma a few weeks ago.
"When they're rollin.... I haven't seen any team better. OU's really, really good in our league. And Iowa State's really good. And Baylor. We've got some really good teams. And, Kansas, when I just look at the make-up of their team, I don't know that there's much missing. They've got great guards, they've got great big men, they've got a great bench, they've got experience. I don't know what they really don't have.
"I'm sure every team in America would love to be a little bit better at something. But, man, I really like their team. They're obviously extremely well coached and I think they're playing great basketball right now, when you want to play really good basketball."
— See what people were saying about KU's rematch with the Cowboys during KUsports.com's live coverage
---
More news and notes from the KU-OSU rematch
---
---
---