Kansas University's No. 2-ranked basketball team did enact its revenge on the Big 12's ninth-place team — Oklahoma State — on Monday night, winning by 27 points in Allen Fieldhouse after losing to the Cowboys by 19 on Jan. 19 in Stillwater, Okla.
The 94-67 Jayhawk beatdown didn't seem all that satisfying to coach Bill Self, however. His Jayhawks were coming off Saturday's emotional 76-72 victory over Oklahoma in Norman, Okla.
KU (22-4 overall, 10-3 Big 12) saw an 18-point lead dip to six over the (12-14, 3-10) Cowboys with 11:18 to play, courtesy of an unsightly 17-5 OSU run.
"It didn't hurt us (KU players) tonight when the other team scored. Against (20-4, 8-4) OU, it hurt us when they scored on us. It was a breakdown when they (Sooners) scored," Self said of the Jayhawk players almost taking it as a personal affront when the Sooners cashed a basket.
Photo Gallery
Kansas basketball v. Oklahoma State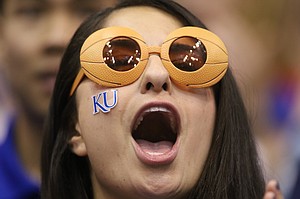 View a gallery of images from the Jayhawks' game against the Cowboys on Big Monday at Allen Fieldhouse.
"Today it was, 'OK, well, we'll be all right.' We've got to get rid of that attitude, but it was good to see the ball go in the hole," Self added after six of his players scored in double figures and hit 50 percent of their shots including 11 of 21 threes.
Landen Lucas scored a career-high 14 points and grabbed 10 rebounds as the Jayhawks showed fight on the glass by out-boarding OSU, 45-27.
Meanwhile, Wayne Selden, Jr., had 18 points, Perry Ellis 15 points, Frank Mason III 14 points, six assists and five rebounds; Brannen Greene 11 points and five boards, Devonté Graham 10 points and Carlton Bragg Jr. six points.
"We weren't near as focused. I anticipated it," Self said of a KU team that moved to No. 1 in overall RPI after Saturday's victory against the powerful Sooners. "I think we played a little tired. The thing is, our guys play better when they are nervous about it. Tonight we had inner confidence which is good. I don't think we had the intensity level we had in Norman."
KU junior guard Greene, who cashed three threes in three tries and had his third straight solid performance since his one-minute outing at TCU, agreed the team didn't quite have the energy defensively Monday night.
"I don't think we stopped them like we should have," Greene said of OSU, which hit 40.7 percent of its shots and seven of 20 threes. The Pokes led by as many as nine points the first half.
"They were getting shots off their actions. I think we were a little bit tired. It was a quick turnaround from Saturday," Greene added. "Obviously knowing what was at stake from the Oklahoma game (first place in league) ... we might have been a little more turned up. I think we were. I still think we did our job and got it done (vs. OSU)."
Podcast episode
Kansas basketball coach Bill Self discusses the Jayhawks' Big Monday win over Oklahoma State, addressing, among many topics, how KU's offense looked much better than its defense.
Greene is out of the coach's doghouse, so to speak, after dunking the basketball right before the final buzzer sounded in KU's 77-59 win over K-State on Feb. 3.
"To me it was kind of meaningless. I didn't really mean much out of it," Greene said. "I looked forward. I kept working, kept trying to get better. That's all it was. I kind of tuned it out. I do apologize and am sorry for it. I'm just ready to play. It's about the basketball game."
Greene has grabbed 12 rebounds the last three games while playing double-digit minutes against West Virginia, Oklahoma and OSU. He played 18 minutes Monday night, hitting four of five shots overall.
Podcast episode
Kansas basketball players Landen Lucas, Brannen Greene and Wayne Selden Jr. discuss the Jayhawks' 94-67 home win over Oklahoma State.
"Coach has been emphasizing it," Greene said of attacking the glass. "That's what I've been trying to do.
"Playing better is what gets you on the court," Greene added. "And trying to do better on defense. If you do what coach wants, he'll play you. The main thing is we're winning right now and I'm very happy.
"I think everybody wants the same goal on our team. We want to win the Big 12 title for sure. We also know in the postseason there are things we want to take care of, too. Our focus is continuing to win."
Next attempt will be 5 p.m., Saturday at Kansas State. Greene figures to be booed heavily by Wildcat fans following that dunk in Lawrence.
"It is what it is, probably so," he said of fans getting on him in Bramlage Coliseum. "It won't faze me much. I don't really care too much about that."
"It's been a good week for us, (beating) West Virginia Tuesday, OU Saturday and Oklahoma State tonight. A good week also takes energy and focus. We'll take tomorrow off, not do much Wednesday, then prepare them Thursday. That's the way we usually do it," coach Self stated.
— See what people were saying about KU's rematch with the Cowboys during KUsports.com's live coverage
---
More news and notes from the KU-OSU rematch
---
---
---