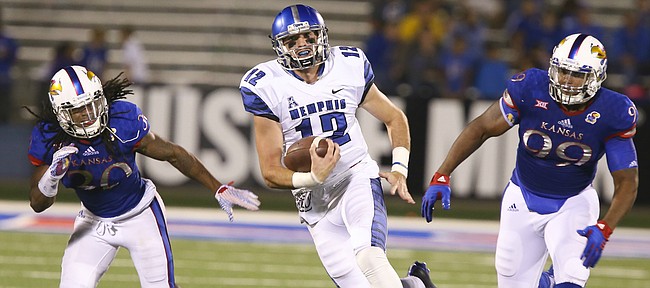 Memphis' explosive football team, which scored 63 points in its season-opener last week against Missouri State, didn't fret after falling behind 10-0 to Kansas University on Saturday night in Memorial Stadium.
"Our guys didn't panic," fourth-year Tigers coach Justin Fuente said after the Tigers' 55-23 rout of the Jayhawks (0-2).
"We preached all week it was going to be an all-day event," Fuente said. "When you play a team as explosive offensively as Kansas — (one) that generates possessions with their speed — then you know it's going to be a little bit longer game."
Photo Gallery
Kansas football v. Memphis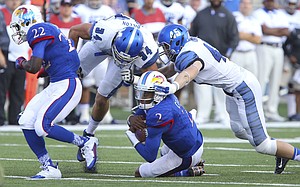 Images from Saturday's game between the Jayhawks and Tigers at Memorial Stadium.
The slow start was long forgotten by game's end.
Memphis (2-0) finished with 651 yards of total offense, second most in a single game in school history. The school record is 659 yards in a 69-19 win over Louisville back in 1969. However, Memphis' 79 total plays Saturday did not crack the top 20 for most plays in a single contest.
Junior quarterback Paxton Lynch threw for a career-high 354 yards (22-of-25 passing with two TDs), bettering his previous high of 311 yards in a 41-14 win over Cincinnati last season.
Receiver Mose Frazier had a career-best 141 all-purpose yards. He had 64 yards rushing, including a career-long 60-yard run. He also had four receptions for 77 yards. His previous career high for all-purpose yards was 110 in a 16-13 win at Temple last season.
"We just knew we had to stay focused," Lynch said. "You get in rhythm. You get the game flowing."
He only misfired on three passes total.
Podcast episode
After his Kansas football team fell to 0-2 on the season, first-year Jayhawks coach David Beaty speaks with media members regarding the struggles of a 55-23 home loss to Memphis.
"I've never done that before in my entire life, but I did tonight," Lynch said. "It's all that work in the summer and spring with those receivers after practice."
Memphis stretched its win streak to nine games, dating to the last seven games of the 2014 season. Entering Saturday, only Ohio State (14), Boise State (10), and TCU (nine) had longer streaks nationally.
The Tigers of the American Athletic Conference snapped a 19-game losing streak against Power Five conference teams (including 10 on the road). Their last win against a Power Five team was 20-13 at Ole Miss to start the 2004 season.
"Not for me, personally," 39-year-old coach Fuente said if there was extra significance to the win. "People will make of it whatever it is. We wanted to find a way to win the ballgame. We're going to play a great team next week that's a non-Power Five team (Bowling Green of MAC). It's not something we talked about."
We really tried to draw the focus inward this week and make sure we were ready to play well."
QB Lynch noted: "It's something that hasn't been done here for however long it has been. This is one of our goals (beating Power Five). One of our goals is to win every game. If we lose a game it's always the next week. If we win it's the next week. We're going to put this behind us and be ready for next week."
— See what people were saying about the game during our live blog.
---
More news and notes from Kansas vs. Memphis
---